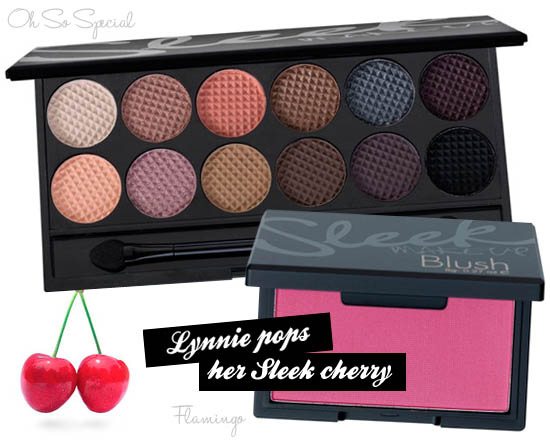 It's time for another installment in my very occasional series of shocking beauty blogger confessions, and this time I have to tell you something that will shake you to your core and make you wonder how I can dare to call myself a beauty blogger at all. You see, gentle Reader, until last week I had never actually owned a single item of make-up from Sleek*.
Oh God, it feels so good to finally admit it.
The budget price points, slick packaging and quality of their products make them the object of much love from the blogging community, but even so Sleek's offerings just didn't call out to me. That's probably because the undoubted jewel in the brand's make-up crown is their eyeshadow palettes, and since I hoard eyeshadow like you wouldn't believe and it takes a very unique palette or individual shadow to catch my eye (I am still devaSTATION at having missed out on MAC Golden Gaze) I very sensibly reckoned that I'd already have dupes of the Sleek shades I liked in my stash.
Fast forward to a last-minute pre-holiday panic buying spree in Superdrug and watch as all that common sense goes out the window.
My favourite green Lancome eyeshadow was in smithereens following an unfortunate encounter with the bathroom sink and I was on the hunt for a replacement.  When I found a fairly lookey likey shade in Sleek's Original i-Divine Palette (€8.50), it didn't take very much internal debate to reason that a cheap-as-chips palette containing 12 shadows for a fraction of the price of my Lancome was a very worthy substitute, even if there was a bit of overlap with shades I already owned.
Advertised
And then, faced with the teeny tiny prices, I lost the head a bit. I ended up with not one, not two, but THREE Sleek eyeshadow palettes - Original, Storm, and Oh So Special - deciding that they'd be easier to pack into a case and take up less room than the equivalent number of singles or quads. I also grabbed the shocking pink Flamingo blush (€7) and a Pout Polish lip balm with SPF15 in Powder Pink (also €7.)
First impressions? Well, I love that the mirror in the eyeshadow palettes is massive, and some of the shades are very gorgeous indeed; there's a fab shimmery navy blue and a moss green in the Original palette  that I'm especially enamoured with, and that's probably the palette I can see myself using most. I bought Oh So Special because I liked its mix of pinks, which I thought would make for good, wearable neutrals, but in reality I find the matte pinks a bit chalky and the shimmer ones a bit frosted looking, and they all make me look a bit sickly. It's not a total loss, though, because there are a few plummy purples that are working well with my green/hazel eyes.
In terms of performance, I'm not entirely convinced, and that's mostly down to the bloody terrible fallout issues I've been having with them, especially the shimmer finishes. I find myself using them in conjunction with other shadows to try and minimise the amount of product ending up on my cheeks (and worse, in my eyes!) which sort of defeats my original excuse reason for getting the palettes. Still, the shadows are impressively vibrant (and cheap, let's not forget cheap) for me to use my fingers rather than brushes as a workaround.
I can see the Flamingo blush becoming a staple - it's impressively pigmented, lasts well, and is shimmer-free but not chalky - and would be interested in giving Rose Gold a whirl, as it looks very NARS Orgasm alike. The Pout Polish lip balm, however, doesn't float my boat at all; the Powder Pink colour's perfect for a natural daytime lip, but I find it accentuates any dry or flaky patches and tastes really weirdly of plastic.
Now that Sleek's easier to get in Ireland than ever before (you can buy direct from their website, from BeautyEmporium.ie and Cloud10beauty.com) have you popped your Sleek cherry? And tell us: how was it for you?
Advertised
* Er, unless of course you count the pot of yellow Sleek pigment that I'd completely forgotten about until right this second.