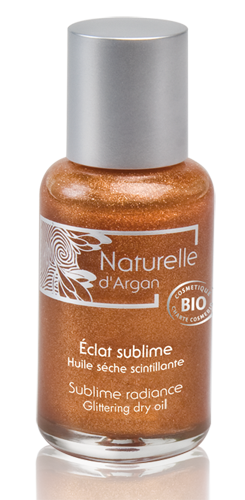 It's no secret that we're mad about the auld oils here at Beaut.ie, so I was delira when a bottle of Sublime Radiance, €19.95, glittering dry body oil from Naturelle d'Argan winged its way to me for review. Kirstie has tried and liked their Pure Argan Elixir, and this glittering stuff is basically a tarted up version with a couple of added ingredients. Like the original, it's all natural and free from parabens, silicone, and synthetic fragrances, but of course there's shimmer in there too, and sesame and hazel seed oils as well as argan oil.
Now, in the (glass, easily recyclable) bottle this stuff looks freakin' scary: a coppery concoction, it kind of reminded me of Lucozade. Just more orange-y and, well, waaaay more glittery.
Once massaged on, though, it's a different story. As the coppery particles of glitter are dispersed across the skin, they seem to turn golden so there's no danger of looking Tango-tastic. And while Sublime Radiance is absolutely jam-packed with those sparkly bits, they look so teeny tiny on the skin that the effect is far more subtle than you'd expect. There's a slight sheen, too, courtesy of the clear dry oil blend they're suspended in, but it gives a healthy glow rather than a wet-look effect.
Oh, and of course that oil means it delivers a lasting moisturising hit to boot.
Advertised
The only thing I couldn't get on with was the smell. There may not be any synthetic smellz in the mix, but I still found the fragrance too sugary sweet for my tastes. My first sniff of the bottle actually put me in mind of yellow Refresher bars, but the initial headache-inducing sweetness is much less obvious on the skin and does die down even further a while after application.
This stuff is perfect for anyone looking for a subtle shimmer fix while keeping skin happy, and it'd be ideal for a night out or wedding. Use on collarbones, shoulders, and shins to really keep things understated, or go all out and and apply on any exposed areas for glimmering limbs that are more delicate diva than discoball.