 It's always unfortunate when this happens. Here we have a really great product, but it doesn't live up to its claims, because it's claims are, frankly, kind of dumb.
This gel from The Body Shop is marketed as both an eyeliner and a brow product. It's pretty much impossible to use the one product for both lining eyes and finishing brows. Why? Because, generally, we want totally opposing features in a gel liner to those we want in a brow product.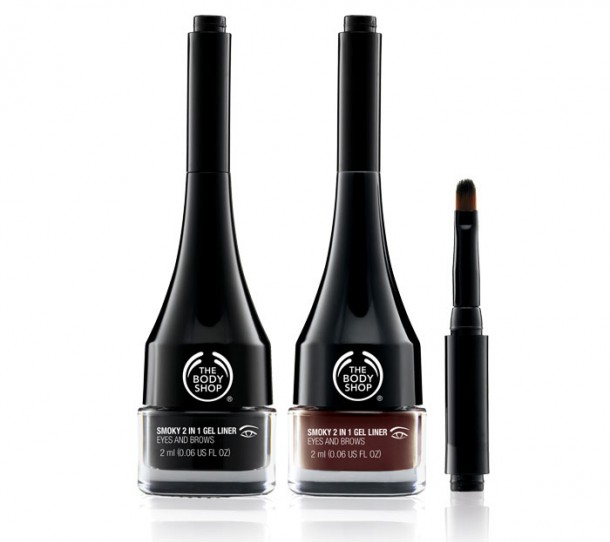 I know that my priorities for liner are as follows - it should be highly pigmented (regardless of the colour); I'll have no wishy-washy nonsense besmirching my eyelids! It should be thick in consistency, but soft, and effective for both a clean cat-eye look, AND blendable into a smoky look. On top of all these, it must stay put. All day. Regardless of what I'm doing.
These are my terms, and I'll accept no others, damn it.
In a brow product, regardless of whether it's a powder, a gel, or any other consistency, I want a brown shade that does not contain any red undertones, and I want it to be subtle. For a day look, I'll fill in the gaps in my natural brows. For a night look, I might build the product up a teeny bit more.
However, one thing is always certain, and that is this: Never, under any circumstances, do I want to look like Groucho Marx. Ever.
Advertised
That's the great pity with this Body Shop product, which it comes two shades - Carbon Black and Brown (pictured below) - it is quite literally a fantastic eyeliner. Buttery soft, richly pigmented and with a handy little brush, it glides on like a dream to create a lovely clean, sharp line. It also blends out beautifully and sets for a lovely, long wearing smoky eye.
Now, during my holiday, I wore this in the sea. The sea! After flapping about incompetently, and taking a couple of roughish waves right in the face for twenty minutes, I emerged from the water with all my makeup gone - except this eyeliner. It wasn't even worn or untidy, but just as I'd applied it. I'm very impressed.
As a brow product, though, this ain't happening. Two words - Scouse brow. The heavy consistency and rich pigment that make this an excellent liner are precisely what makes it a horrible brow product. Unless you like the 'felt tip brow' look, avoid putting this on your eyebrows!
Advertised
The Body Shop have reached too far with this one, for sure. However, I'd still highly recommend it as a liner - it's flawless!
The Body Shop Smoky 2 in 1 Gel Liner is available nationwide at €15. Have you tried it? More importantly, do you use gel liner on your brows?