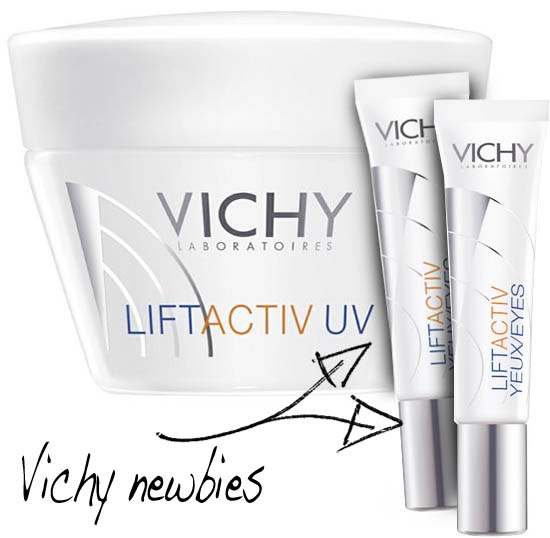 Two new additions join the Vichy LiftActiv Derm Source family this month: a day cream with UV protection, €32, and an eye cream, €25.50. Like the rest of the line, both these newbies contain anti-aging rhamnose, an ultra-pure sugar extracted from Brazilian plants which reactivates skin's collagen-producing papillary fibroblasts.
The day cream contains SPF15 and unlike other day moisturisers in the range this one is indicated for all skin types, including sensitive. With a non-greasy and non-sticky consistency, it promises the same anti-wrinkle and lifting care as the originals but with the added benefit of protecting against future UV damage.
While that's all very win-win, it's the eye cream that I'm particularly excited about. This is billed as a daily all-rounder eye treatment to tackle, well, everything. With a month of twice-daily use, wrinkles, crow's feet, under-eye bags, and dark circles should look reduced, with eyelids appearing smoother and lifted.
In addition to these impressive claims, it's also suitable for use around even sensitive eyes, with an anti-migration formula to prevent seepage into delicate peepers.
Advertised
The lifting effect is immediate and noticeable, especially if the cream's applied to one eye in isolation. In addition to giving it a whirl myself, I recruited two willing guinea pigs (who have asked me to stress that they are only marginally over the 35 mark, thankyouvermuch) to try it too. After a single application, I found that the lines around my eyes looked obviously smoother. My fellow testers, meanwhile, noticed a marked improvement in the appearance of wrinkles and crow's feet: they looked softer and less defined, while under-eye bags appeared deflated.
The only disappointment was that none of us spotted any difference in our dark circles, but being able to actually see three out of four effects after just one use is pretty good going. We all felt confident that, with the prescribed four weeks of use, it would surely make an impact on dark circles given how well it performed against the other eye concerns.
My biggest problem now will be trying to split my tube of cream two ways: both of my guinea pigs are demanding it for keeps. Eep!
If you're in the 35+ bracket, concerned about the signs of ageing that have put in an appearance around your eyeholes, and have about 20 quid to spend, I'd definitely tip the nod to Vichy LiftActiv Derm Source Eyes.