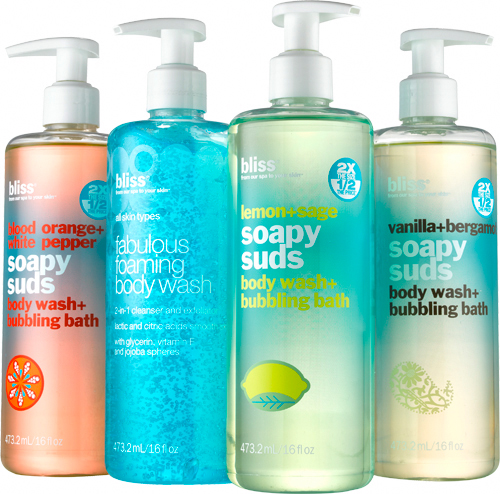 Yum! A day in which new Bliss goodies is launched is a good one indeed, I always think, which is why my last beauty byte for the day was hastily postponed till Monday and this one hurriedly assembled (but with love and care, y'unnerstan).
Four new scrubbers are debuting: fabulous foaming body wash contains buffing beads, lactic and citric acids, gylcerin and vitamin e to slough and condition. €28 of your eurobux for that one, and it's big: 16oz, which in euro-speak is about 470ml.
There are also three bubbly baths in Bliss' classic scents: blood orange and white pepper; lemon and sage and vanilla and bergamot are now available in massive 16oz/470-ish ml pumps for €21 - which is way better value than they used to be.  You can use as showergel or splooshed into a bath for bubbles, making them even more better and value-ous.
Advertised
All are paraben-free and super-pretty. I will definitely be shelling out for one of these, oh yes.