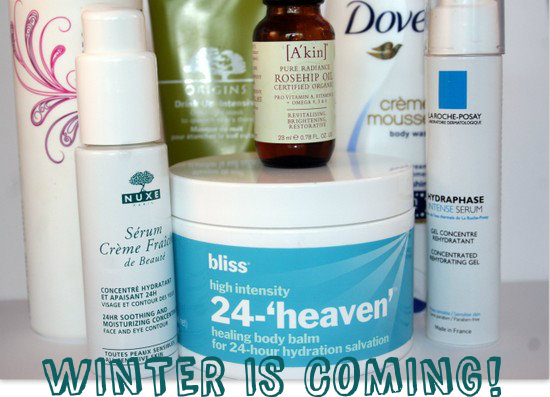 As fellow Game of Thrones fans will be aware, "Winter is coming" and with it an onslaught of attacks on our skin. The only flakes I like are by Cadburys, and even then I don't want them all over my body and face. So when the temperature drops, humidity falls and the cold winds start a-biting, it's time for a few seasonal adjustments.
My skin is oily/combination so in the summer months I combat this with gel facewashes and light gel moisturisers.  But in winter, the cold and wind can dry up even the oiliest of skintypes –  making oil stripping products redundant. Cream products will be kinder on the skin; my cleanser of choice is Liz Earle's Cleanse and Polish, and I like to ramp up my choice of moisturiser, too.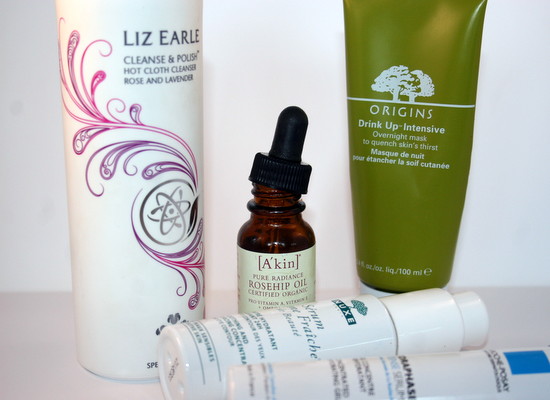 I'm still using the Elizabeth Arden Visible Difference Skin Balancing Lotion that I showed you here, but my skin needs more – so I'm adding a drop of A'Kin Rosehip Oil, which is working wonders. Try adding a drop to your foundation, too, if it's started to cling to your dry bits. And I'm layering that over a serum – my current favourites are La Roche Posay's Hydraphase Intense Serum, €23, or the Crème Fraîche Serum from NUXE, €34, which both tackle dehydrated skin. We'll have more tips for dry skin coming up next week.
I've even switched from gels to cream-based products in the shower, thanks to this Dove Crème Mousse Body Wash. It's quite a rich, creamy product that's designed to add moisture to the skin and provide a more indulgent shower experience – and all for under a fiver (RRP €4.06). Sure you can't go wrong.
Advertised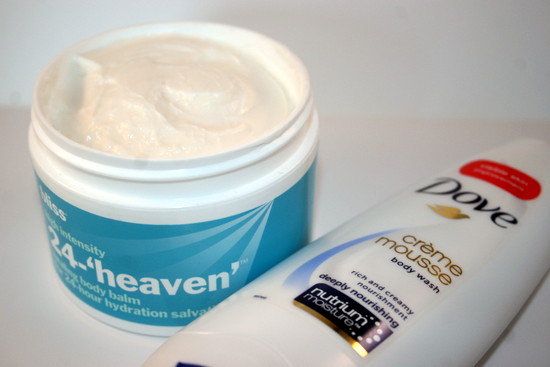 Post shower, I've been lashing on this Bliss High Intensity 24–'heaven'  Healing Body Balm For 24–Hour Hydration Salvation, a lovely rich cream to intensely hydrate dry, irritated skin. At €31 it's expensive but it's been clinically proven to moisturise for up to 24 hours, and can be used to treat skin conditions like psoriasis and eczema.  Plus, it smells divine.
Lastly a couple of nights a week I retire in a saintly fashion with a layer of Origins Drink Up Intensive Overnight Mask, or one of the other hydrating masks in my facemask wardrobe.
So that's what's working for me, but what about you? What changes do you make to your skincare when the colder weather strikes? Share your top tips in the comments!