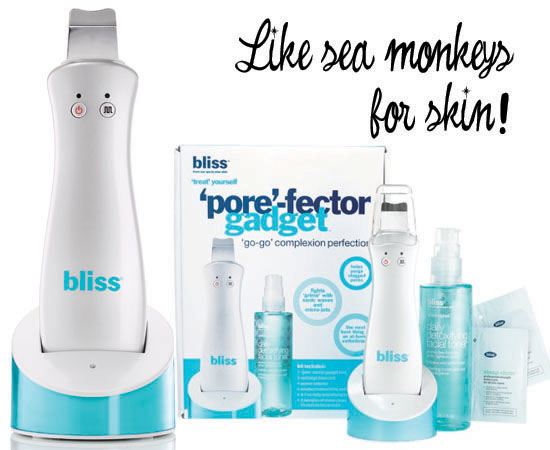 Get a load of this little beauty gadget: it's Bliss' new Pore Fector and it's designed for any of us suffering from those 'areas of congestion' - or Face Cheese as we like to call it on Beaut.ie.
A rechargable gizmo that generates sonic vibrations (no, really), when used with a companion product, the Bliss Daily Detoxifying Facial Toner, magic little micro-jets are formed which put on their workman's overalls, mining hats with lights and power into your pores with special scoop-shaped nano-shovels, ready to clean out clogs. Think of them as a bit like sea monkeys for skin.
Ok not really.  But the sonic jets bit is true, honest guv'nor. The idea behind this is that the vibro-waves emanating from the metal tip on the device as you pass it over skin help to loosen sebum plugs in the pores, and that gives you nice a non-hill-and-dale complexion. It gets better. One side is for degunking, and then you can flip the gadget over and use the other side of it to use as a massage tool to work hydrating masques and creams into your skin for optimum performance.
Advertised
While I don't have a Perfector myself so can't comment on whether it does actually work, I did get a go on one recently which caused a large wave of longing. But I may have to pine: the damage on this is €150 and you'll find it on counter now at Brown Thomas stores and Harvey Nichols Dundrum.