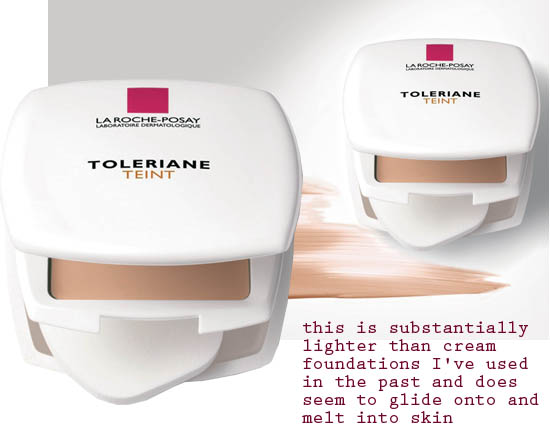 The very first foundation I ever used came in compact form. The glossy black case of my Elizabeth Arden Flawless Finish led me to think that I was beyond chic, which was clearly not true as it contained a too dark shade of heavy duty, maximum coverage spackle that I gaily slathered on at every opportunity. Even though it was far too heavy and dark for me, it was fantastically bag friendly and mega handy, with its integrated sponge and massive mirror; I don't think that you can really beat a compact foundation for convenience.
So I was quite happy to give La Roche-Posay's new Toleriane Teint Compact-Cream Complexion Corrector, €20, a whirl when it landed on my minimalist and stylishly curated desk (the overflowing kitchen table. Sigh.)
Fragrance- and preservative-free, Compact-Cream is a sister product to Toleriane Teint Mineral: the latter has a mineral powder texture, SPF25, and is for normal and combination skins, while this one is a true cream compact with SPF35 and is aimed at those with dry skin.
These are corrective foundations suitable for sensitive and intolerant skin, intended to cover even very severe skin imperfections to provide a flawless complexion without overloading or caking the skin in make-up. In addition, Toleriane Teint Compact-Cream is formulated with sensitivity regulating Neurosensine, a dermatological active ingredient, to sooth and reduce the risk of reaction in dry and sensitive skins.
The shade range is limited, and there are just four shades of Toleriane Teint Compact-Cream, €20, to choose from: 10, Ivory; 11, Light Beige; 13, Sand Beige; and 15, Golden. I tried Sand Beige, which was much too dark for me; I reckon Ivory or Light Beige would be safer bets for typical pale Irish skins.
In terms of texture, this is substantially lighter than cream foundations I've used in the past and does seem to glide onto and melt into skin to leave a film of natural-looking coverage. It's buildable but never mask-like and gives a semi-matte finish, and I found it very easy to apply and blend.
Advertised
While I found Toleriane Teint Compact-Cream comfortable to wear, I was surprised to notice that it accentuated the dry, flaky patches around my nose that were overdue a session with an exfoliator.
The other bit of kit I've been trialling from La Roche-Posay is the latest addition to their Respectissime eye make-up range for sensitive eyes and contact lens wearers. It's Respectissime Waterproof Volumising Mascara, €17, and promises smudge-free extreme hold in all circumstances until the time comes to remove it: the claim is that it slips off easily with make-up remover to reduce rubbing and irritation for sensitive eyes.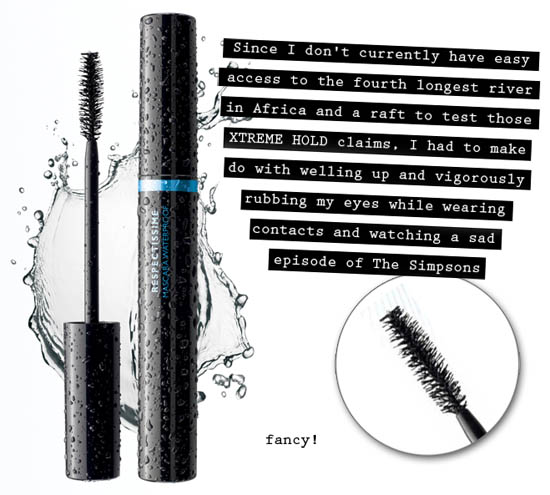 This looks very wet on the brush and it takes a wee bit of careful wielding to avoid coating the eyelid, but it dries extraordinarily quickly on the lashes, making it a Godsend for anyone prone to sneezing mid mascara application. It gives thicker lashes instantly and holds a curl well, but I did need to comb through my right lashes with a lash comb where it had clumped ever so slightly.
Since I don't currently have easy access to the fourth longest river in Africa and a raft to test those XTREME HOLD claims, I had to make do with welling up and vigorously rubbing my eyes while wearing contacts and watching a sad episode of The Simpsons the original B&W Sabrina.
It didn't budge or irritate my eyes.
Advertised
Two manicured thumbs up!