 This week I'm Beaut.ie's mascara detective. I'm out and about with my magnifying glass, on the hunt for that HGM (Holy Grail Mascara).  Now, I know that we all love that elusive tube of mascara that just glides on like silk, but does anyone actually have one in their makeup bag?  Yes, we've all been guilty of one time or another of chancing our arm (and lashes) with the dried out, crispy mascara that's been in the bag since that splurge of 2012. But if we are going to spend our money on a new one, it had better be a good 'un.
There is only one thing that is more satisfying than a shiny, new mascara and that's one that gives you wings. And this one does just that.
Lancôme are like the mascara mafia. They are always one step ahead. I am rarely unhappy with mascara from them and they have done it again with this one. As a makeup artist, I always get asked what the best mascara is but to be honest there isn't one answer. It's all about application and it's this technique that is Lancôme's point of difference with their new wand.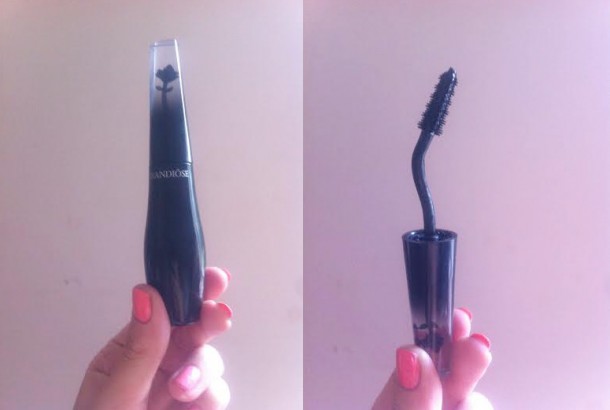 They claim their new swan-shaped wand, combined with high tech bristles, is the answer to every girl's mascara problems. They basically have come up with a different shaped brush that seems to grab each lash to its full attention, even those little ones in the inner corner that are a nightmare. And the brush is shaped so that when you cross over you don't smudge your mascara on the nose area. I have to admit it is a pretty fool proof wand as it does feel like you can't really go wrong with this little guy.
This mascara is of the blackest pigment possible, possibly the same pigment used to make priests' socks (it does seem that we are slowly seeing brown mascaras disappearing). And Lancôme's Grandiose (€30) contains rose cell extract to give our luscious lashes some tender love and care. I love how our mascaras really care about us these days.
Advertised
One thing I love about the shape of this new mascara wand is the clever way you screw the wand out to remove it. Whipping your brush in and out of your mascara tube can create what they call a chimney stack effect, which dries out the product quicker.  But be warned - this is certainly not one you can just whip out in the back of the taxi when you are late for work. Lancôme's Grandiose is elegant and pretty and must be handled with care or you will end up with this wet consistency everywhere.
The verdict? I love it. It lifts the lashes as high as they can go. I see it more as a one mascara hit wonder though as when I applied a second coat, it didn't glide on as cleanly and didn't deliver any extra length.  But it does a great job in one coat, provided you apply it slowly.
And I love the look of this little swan on my dressing table, and the fact that it gives me wings…she's a keeper.
Advertised
Are you fighting the battle of applying mascara with the usual wands? Are you tempted by Lancôme's latest offering? Do you have HGM (we're patenting this term)? Share with us in the comments!