 The beauty industry is always changing and updating. There is a time limit always on the newest, latest and greatest thing to hit shelves that people will catch on to.
Let me introduce you to the latest take on a "makeup sponge". Molly cosmetics have just launched what they call a "Silisponge".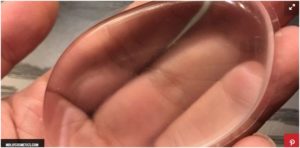 The beauty tool somewhat resembles those silicone pads that you find in your padded bra. The idea behind this applicator is that it applies your foundation like a beauty blender but doesn't absorb any product, saving you a fortune on foundation in the long run.
Advertised
The second attribute is that it is so easy to clean, making it a lot more hygienic for your skin. However, I just can't imagine a silicone sponge would apply makeup well. I could be wrong. But I'm a "try-it-to-believe-it" kind of gal, so watch this space.
What are your thoughts? Are you sold or sceptical? And does this mean we should start tearing our bras apart?