 New Year's Eve is an odd one. Some people love to celebrate - either the end of a bad year, or the end of a great one. Most of us hope that the new year will hold some nice things for us. I'm very grateful for the fact that I've had - overall - a very positive 2014, and I want to mark that by doing something fun.
This is the one day of the year (well, maybe Halloween trumps it) when considerations like age and subtlety do not matter. You can go entirely mad with your makeup, and it's perfectly okay. So I'm whipping out the glitter, and going for a really out there - but entirely gorgeous - holographic glitter eye. Here's how: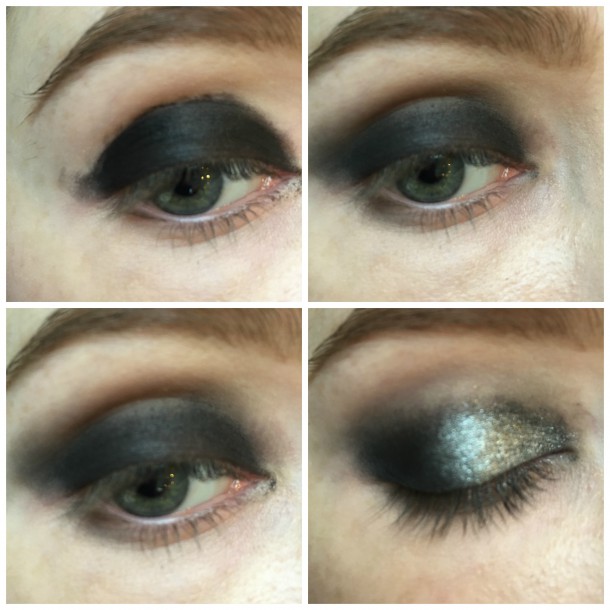 Step One
Bear in mind that this eye makeup looks a mess at first, but when you're finished it will look fantastic. We're working with loose shadows and glitter, so skip foundation till after you've finished the eyes. Otherwise you'll have a lot of mess to clean up!
I've done my brows as usual - though not too heavily. See how I do them in my basic brow tutorial here!
Apply some eye primer to your lids - I'm using Urban Decay's primer potion - then grab a black gel liner. I'm using Maybelline's Eye Studio Lasting Drama - it's every bit the equal of its high-end counterparts.
With a flat shadow brush, really pack the liner onto your eyelid all the way up to the crease, as in the top left photo.
Take a clean blending brush and soften the edges, then blend the liner all over to really adhere it to your eyelid. Take it along the lower lashline too. Don't worry about any mess at this point!
Next, grab any matte black eyeshadow you have lying around and blend it into the crease to create a more professional looking edge. Take your time and blend in a combination of little circular motions as well as over and back like a windscreen wiper.
Next, take a silver cream shadow - I'm using the one from Lancome's 2013 Christmas collection - but any will work, and pat it half way across the lid (as in the bottom right photo) with your finger. Take it a third of the way along the lower lashline too, to catch the light at the inner corner!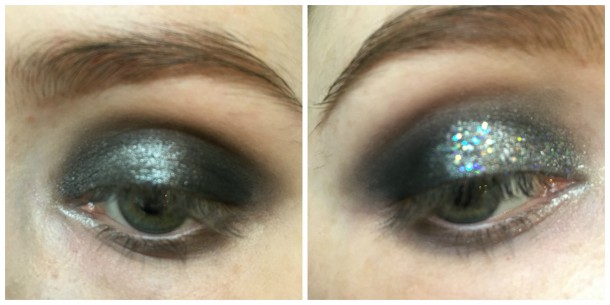 Step Two
Grab a deep plum coloured eyeshadow (deep brown would work too) and blend it into the crease of your lid, as well as along the lower lashline, The eye should look as though it's starting to come together at this point.
Glitter time! I'm using Urban Decay's entirely glorious Heavy Metal Loose Glitter in Pyrotechnics. I've dotted a touch of clear lip balm (Vaseline will work well) onto the centre of my lids to help the glitter to stick. The barest amount is all you need. Pat the glitter on gently with your ring finger, and behold the sparkle! Photos don't fully capture how beautiful and sparkly it is.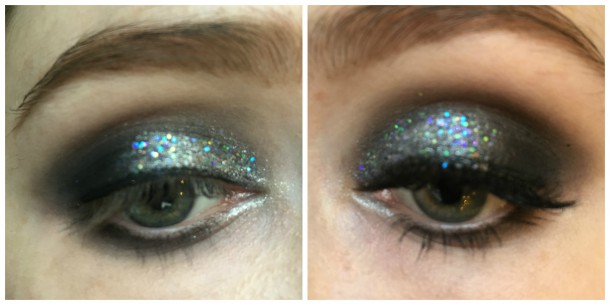 Advertised
Step Three
Take a black gel or pencil liner and line the upper and lower lashlines, just where youre eyelashes naturally occur. Don't take the liner into the inner corner or wing it out. We're going for a more round-eyed look here.
Smudge the liner very gently with a cotton bud or smudging brush.
Apply two coats of your favourite volumising mascara and prepare your false lashes! I'm using Eyelure Lengthening lashes in No. 35. They will boost my natural lashes without looking obviously false. Apply some glue to the lash band (Duo glue is best) and wait thirty seconds for it to get a bit tacky before applying the lashes.
When they are dry, take some bronzer or orange matte shadow and blend it through the crease of your eye to create depth and enhance your eye colour.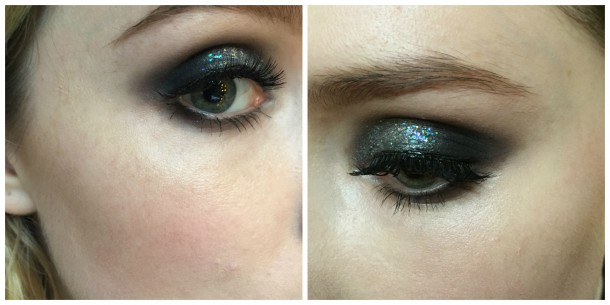 Step Four
Time for foundation. I'm using Bobbi Brown's foundation stick for higher coverage and blending some NYX corrective concealer under my eyes and over blemishes.  Use your concealer to clean up any smudges or uneven eyeshadow.
I'm using the tiniest touch of pink blush - Mac's Well Dressed on the apples of my cheeks, and blending Lancome's divine Star Bronzer under my cheekbones, along my jawline and through my hairline to add some definition to my face.
Next, highlighter - Benefit Highbeam. I'm dabbing it with fingers along the top of the cheekbones, down the nose and on the cupid's bow.
Finally I'm finishing the skin with Mac's Studio Fix Powder, which adds coverage and leaves a flawless, shine-free finish. I'm pressing this into my forehead and onto the centre of my face with a clean fluffy powder brush.
To finish, I'm applying a slick of sparkly pink lipgloss. I've chosen Dior Addict Gloss in Pink Excess, no.663.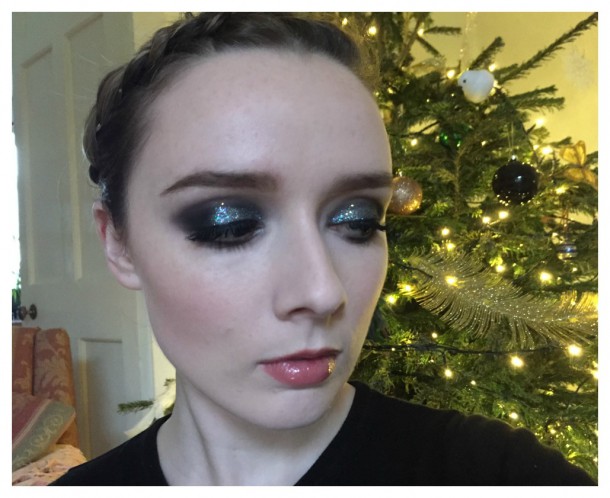 Done! What do you think? Would you wear this sort of makeup? And what will you be doing this New Year's Eve? Remember you can still wear sparkly eye shadow if you're staying in in your pyjamas!
Advertised