 Forgive me. Indulge me. I've gone a bit mad with this one. But then, New Year's Eve is the one night when you can take makeup - particularly eye makeup - to new heights of 'oh my'ness. I'm just not able to resist. So prepare for a feline eye that's too much for any occasion EXCEPT New Year's Eve. And sure why wouldn't you?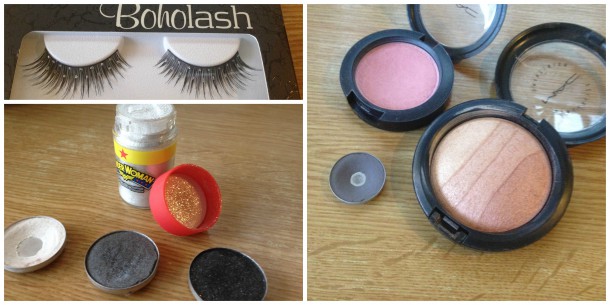 Step One
I've started as usual with my base. Because New Year's Eve is a serious business, I'm going for Mac Full Coverage Foundation in NW10. Because it's so full-on, I'm using the barest amount to even out my skin and building it in areas where I need more coverage, like my chin. I'm applying it with my beloved Real Techniques Expert Face Brush.
I've also given my brows some structure with a brow pencil - whatever you like best is perfect.
To begin the eye, grab an angled brush and a black eyeshadow. I'm using powder shadow  - Mac's Black Tied is my favourite - as I don't want to be in a rush to blend cream shadow before it sets.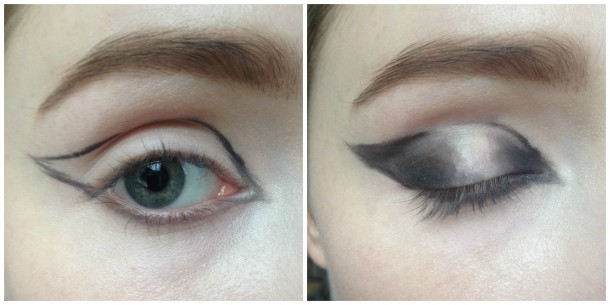 Follow the natural line of the crease (where your eyelid meets the socket) as in the picture. Leaving a gap in the very centre of the lid, create a big wing at the outer corner of the eye. Create a similar wing at the inner corner, creating a little point at the innermost corner to emphasise the feline effect. Take the shadow under the eye, and join it up with the flick at the outer corner.
Fill in the inner and outer corners, leaving the centre clean, as in the photograph.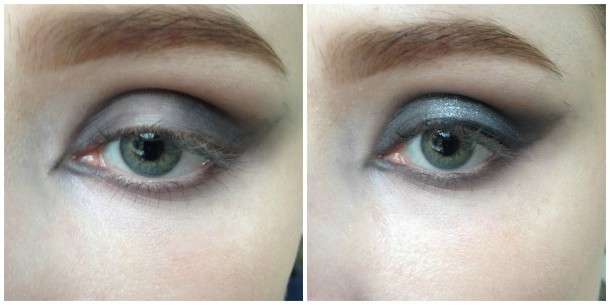 Step Two
Advertised
Don't worry if your work is messy for now. We'll clean it up later. Take a clean blending brush and blend away all the harsh lines.
Next, take a flat shadow brush and apply a metallic gunmetal grey shadow (I'm using Mac's Knight Divine) along the inner two thirds of the lid, including the spot which you left blank.
Wipe your brush on a tissue and apply an iridescent white shadow in a dot on the centre of the lid. I've used Mac shadow in Crystal Avalanche.
On top of this, apply a little loose glitter - I'm using Mac Reflects Glitter in Pearl.
Next, using any black pencil liner you like, line your upper lashline to add some definition to the lashes.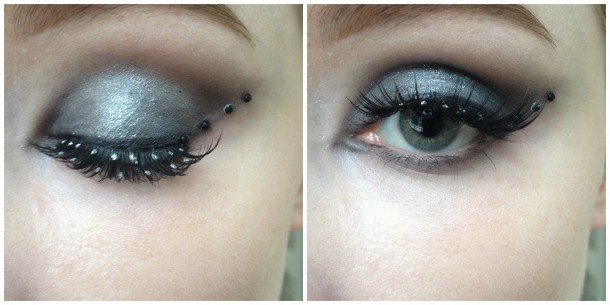 Step Three
Next, grab your black crystals. I get mine in the Art n' Hobby Shop for €1.99! If you want comprehensive instructions on applying these, check out my recent Lily Allen look.
With some lash glue and a tweezers, I'm applying four crystals along the outer line of my winged eyeshadow, just to make the look that bit more obscene!
While you're waiting for the glue to dry (don't worry, white lash glue will dry clear), apply an absolutely over-the-top set of sparkly lashes. I'm using Boholash lashes from Salon Systems. I got them from a Sally's Salon Supply Store.
Next, disguise the lash band by applying some more black liner over the top. Apply the liner along the lower lashline too, and inside the lower waterline. Blend along the lower lashline with a clean pencil brush to prevent white patches between the lashes.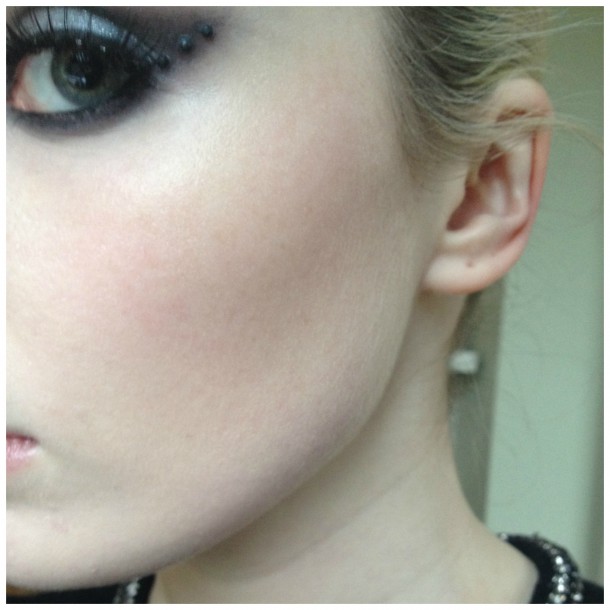 Step Four
Now for the clean up! Tidy up any blurred lines or falldown with plenty of liquid concealer. Make sure to take it under the wing of your liner to create a nice clean line.
When you're happy with your eyes, move on to contouring. You can use whatever product works with your skin tone, but I think that the most natural contour for really pale girls like me is... grey eyeshadow. I know it sounds mad, but anything orange or  warm-toned can make pale skin look dirty. Grey mimics natural shadows on pale skin. I'm using Mac Eyeshadow in Scene - a matte grey, and applying it lightly with a fluffy contour brush just below my cheekbone. Make sure to blend it really well.
Next, I'm applying a touch of Mac's Well Dressed blush to the apples of my cheeks, and finishing the skin with some highlighter along the high points of the face. I've chosen Mac's Mineralize skin finish in Redhead.
To balance out the eye, I'm choosing a really understated lip. I've applied some of Mac's Cremesheen Gloss in Boy Bait. What a name...
Advertised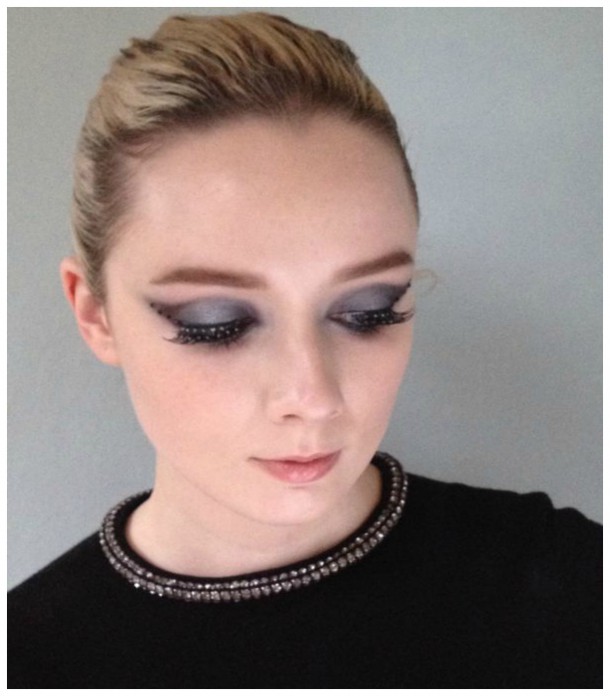 Done! What are your plans for New Year's Eve? And will you be pushing the boundaries with your makeup? Let us know in the comments!