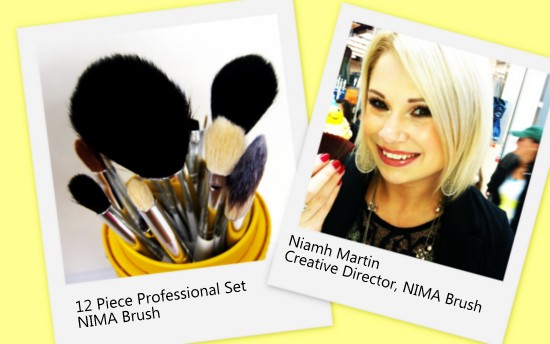 I have something BRILLIANT to share with you today today. NIMA Brush is a brand new brush company and they're bleedin' deadly. They're fun, they're affordable, the range is massive and the quality is right up there with the most expensive tools in my collection. Best of all? They're IRISH!
Yep, NIMA is the brainchild of Irish make up artist Niamh Martin, who hails from Rathfarnam in Dublin. After more than a decade working in the Irish and UK markets, and acting as a supplier to other brush brands, she's struck out on her own.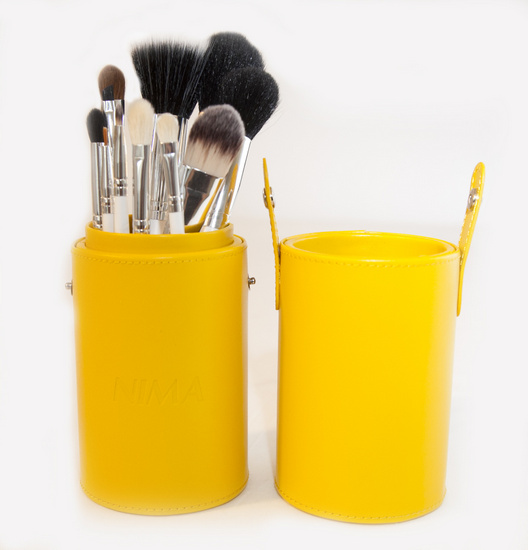 I feel about brushes the way some people feel about chocolate or kittens, so being sent a set of 12 to play with was pretty much a dream come true. They arrived in a fab, cheery yellow cylinder - perfect for travelling or storage.
The whole shebang is priced at €95 (€80 without the holder) which works out at €7.90 a brush – not bad, considering it includes everything you need for a full face (and then some!). Smaller sets are available – there's a 7-piecer that's priced at €50 – and individual brushes are also on offer, from €9. The line includes both natural and synthetic brushes and a lot of work and effort has gone into sourcing the best quality materials for the price.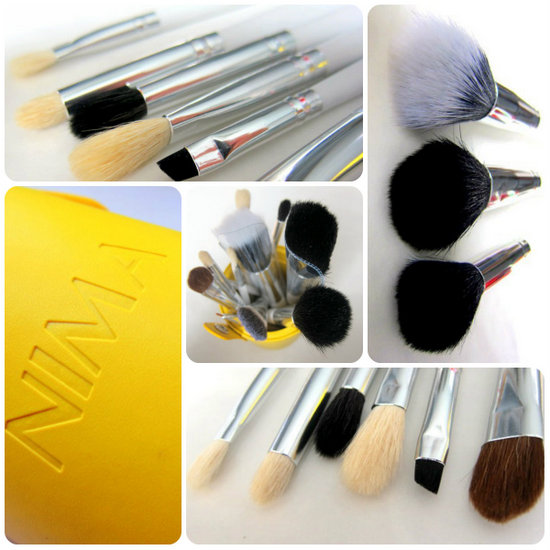 So what's included in the 12 Piece Professional Set? For the face, there's a large powder brush, dome blush brush, duo fibre foundation and flat foundation brush. Eye brushes include a small angle brush, eye liner brush, pencil brush, tapered blending brush, crease blender, large shader and medium lid shader. A concealer/lip precision brush is also included.
Advertised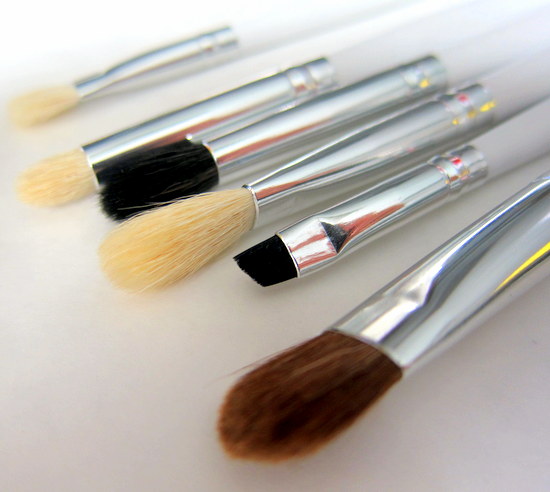 Like we've said before, you're not gonna be mad about everything that comes in a kit – you're just not. So with this set I'm not feeling the love for the flat foundation brush, but that's just a personal thing; I don't get on with that particular style. Everything else? I love.
Strong brush ferules, sturdy handles, super soft brush heads… I can't comprehensively report on how they wash and wear yet, but for quality and ease of use, these babies tick all of my boxes - and then some. And of course, I already have my favourites. Standouts for me include the big fluffy powder brush, the crease blender and the duo fibre foundation brush, which rank among the very best I've used.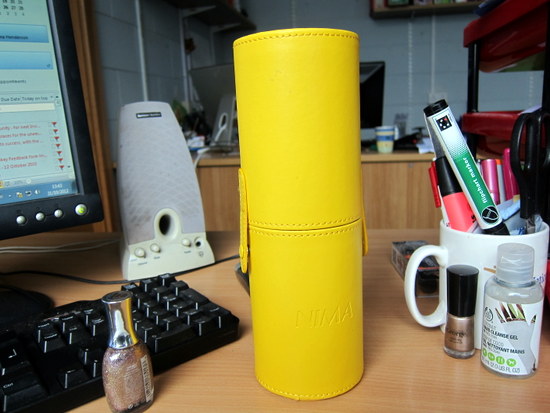 Brightening up the daily grind!
Oh – and get this! They also do brush parties, which include a pro makeup lesson! Isn't that a fab idea? I love the idea of getting round a load of mates, a few bottles of wine (ie a shedload) and picking up a tip or two along with a few great quality, affordable tools.
If you're looking to build your kit or just round out your collection then honestly lads, this is one brand you should be checking out soon. Check out www.nimabrush.com or visit their Facebook page for more.
Advertised
Whaddya reckon - are you as batty about brushes as I am?