 I was only just telling you about my love for No. 7 BB cream, when the No.7 CC cream hove into view.  So obviously I had to excitedly try that too.
No 7 Youthful CC Cream (€19.50) is a light to medium coverage complexion corrector cream. Even though I know it's technically a pig of a different snout, I can't help but compare it directly to the No. 7 BB cream. (Which is still my go-to base for lasting light coverage.)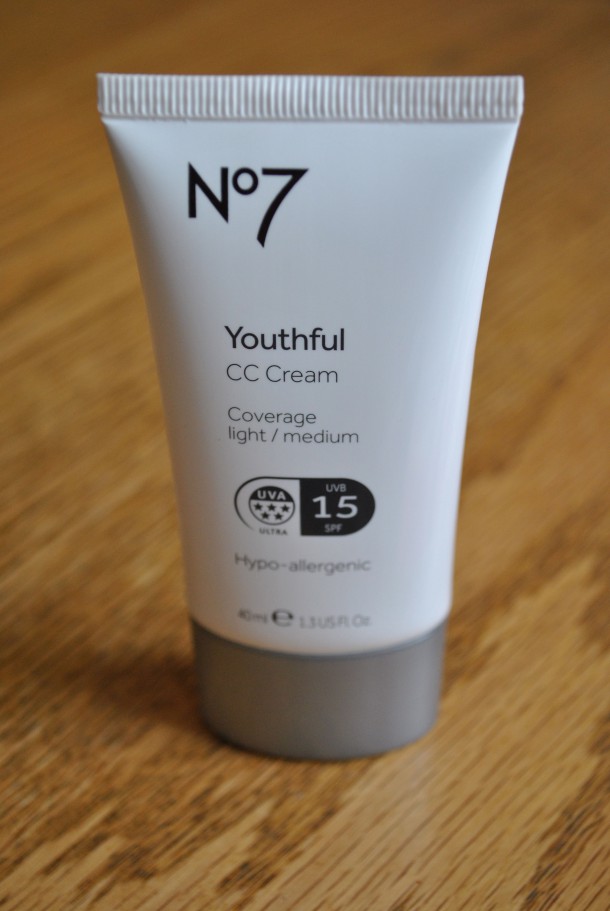 Immediately on application, this CC cream is much more a foundation formula than my beloved BB Cream. You could basically apply the BB Cream in the dark and still get good results, whereas this had me reaching for the foundation brush. The consistency is much less airy and light on application, but I must say it feels light once applied, it's sort of between a BB cream and a foundation.
CC Creams confuse me, this one is a complexion corrector with anti-aging benefits and UVA and UVB protection. It's also meant to disguise fine lines and brighten and hydrate.
Advertised
Now my skin has been SLIGHTLY fecked recently, so I'd usually be reaching for the foundation on the regular. Instead I decided to try this baby out. I've been skipping the moisturiser altogether (unprecedented for me) applying this with a brush and then setting it with a bit of powder and it's been working a charm on my redness and dryness.
The formula does feel moisturising and hydrating: like the Clinique CC offering it contains hyluronic acid, a godsend for dehydrated skin. It's also got vitamin A and C PLUS the same firming complex that's used in the Protect and Perfect range.
It wont be replacing my No. 7 BB Cream, but it's definitely a useful addition to the makeup bag and a better way to spend my pennies than the Property Tax.
So has anyone else tried this CC Cream or is Clinique CC still your one and only?