 No 7's new foundation release is very timely. Even though the weather is putting all its effort into squashing the daffodil shoots that I'm almost sure I saw through the sheets of rain blowing into my eyes this week, Spring IS coming.
With Spring comes the shedding of layers of clothing (though not quite yet or it's hello hypothermia) and of makeup. It feels fantastic to ditch a heavy winter base in favour of something light, sheer and breathable.
The options are endless -  BB cream, CC cream, tinted moisturiser, or light foundation. In general, though, we're more confident about our skin during the spring and summer months and happier to show it off.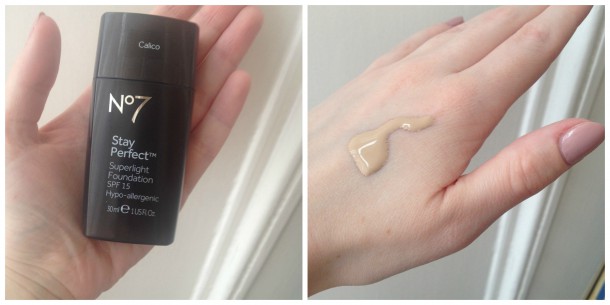 No 7's Stay Perfect Superlight Foundation SPF 15 is the affordable answer to Chanel's Vitalumiere Aqua. If you prefer a light, non-oily base that's still not quite matte, then this one is for you. It provides sheer coverage, but more than a tinted moisturiser would. Like Vitalumiere Aqua, this is 'your skin, but better' in a bottle. As you can see from the photo, I have a nasty blemish between my eyebrows (thanks a lot, period face) and this has really evened out my skin surprisingly well for such a light base.
With the right concealer, any blemish can be hidden. Opting for a foundation with lighter coverage and carefully concealing blemishes is a way to even out the skin without looking like you're wearing a lot of makeup. If you're very conscious of your skin, then this might not be for you, but on a good skin day it's all you'll need!
Advertised
The consistency is very runny, but this applies well with fingers, a brush, or a sponge and has surprisingly good lasting power.
I'm wearing one of the foundation's fourteen shade in Calico, which is about a shade too deep for me. I usually mix it with a white foundation to customise the shade, but I'm wearing it here as it is to give you a good look! There is a match in the range for most skin tones, and this will work for all but very dry skins.
At €18.95, it's not as affordable as some other pharmacy brands, but it's also far more affordable than Vitalumiere Aqua, which comes in at €38 and has a narrower shade range.
Advertised
No 7's foundations have really improved in the last couple of years, and provide high end brands with some strong competition.
Will you be trying this one? Or would switching brands make you feel like Chanel's cheating girlfriend?