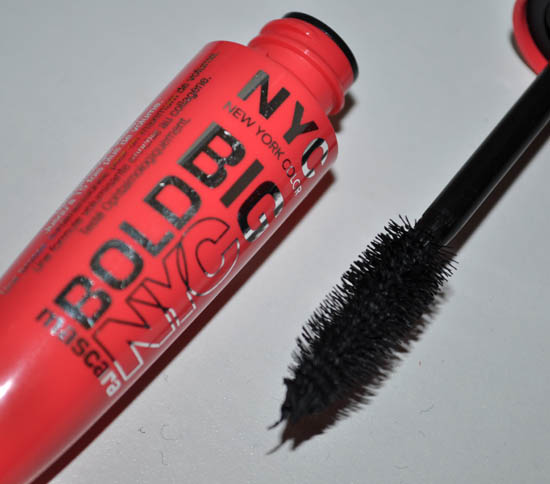 When I'm writing a review I usually lash down a few thoughts straight away and write around them.  I tried NYC Big Bold Mascara, €3.99 - which promises fat, volumised lashes - for two days and when I returned to the "Drafts" folder to write my review I read the following:
lashes not maximised
Big Bold Mascara you promised much: 12 times more thickness plus the same in a lifted effect.  Hah!  You delivered zut (is that even a word?  Well it is one now)
Excitedly I applied your huge bog brush to my lashes.  Disappointingly I could barely tell that I had mascara on
Good point: didn't notice any flaking.  Didn't notice much mascara though either
Market saturated with mascara, it takes a really good one to make the grade.  This doesn't
Yes it's cheap - but it's still not worth it
(And then I noticed that I gave the ultimate damning verdict) 
Advertised
I don't even like the packaging
And you know, the points are pretty telling here, so I decided to just leave them and show you my reaction.  I actually hated EVERYTHING about this mascara.  To be fair I don't like bog brush wands anyway so sadly the odds were stacked against it from the start.
Priiit-tee harsh as Chris O'Dowd might  say of this verdict.  But maybe some of you have used this mascara and liked it?