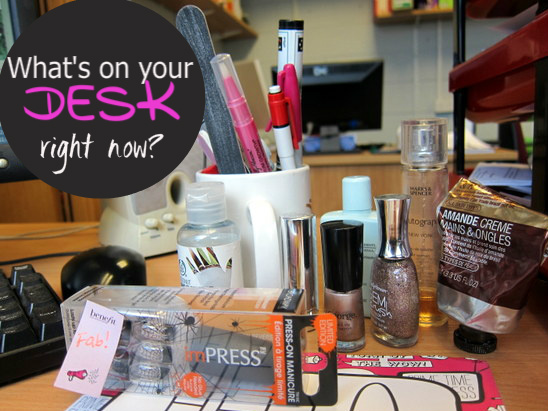 This post was prompted by a comment here about the beauty bits that are living on my desk. I actually don't keep too many bits and pieces at work - for some inexplicable reason I like to lug around the equivalent of half a beauty hall on a daily basis. But I've worked with more organised types who've kept a small bag of beauty essentials in their top drawers, and others still who've kept one single solitary lip balm on their desktop.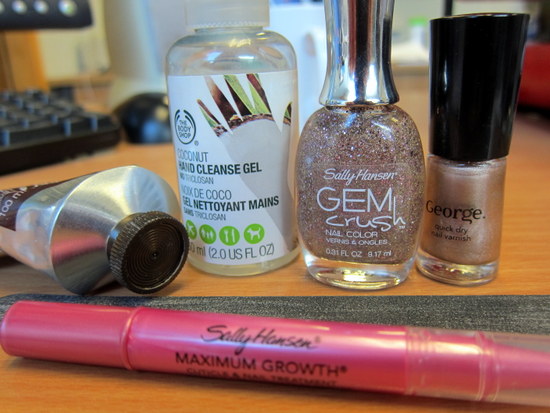 Here's a wee peek at the bits and bobs I keep in the office. Most of it's nail stuff - the Sally Hansen cuticle nail pen is a desktop staple for me, as is the nail file, for obvious reasons. The coconut hand sanitiser and almond hand cream from the Body Shop both permanently live on my desk, and I usually have a lip balm to hand too - at the moment it's the Becca one I showed you here. A couple of nail colours - this one from Asda, and one of the new Sally Hansen Gem Crush shades - are also hanging about, kept company by the spooky Broadway Impress nails I meant to pop on for Halloween (but totally failed).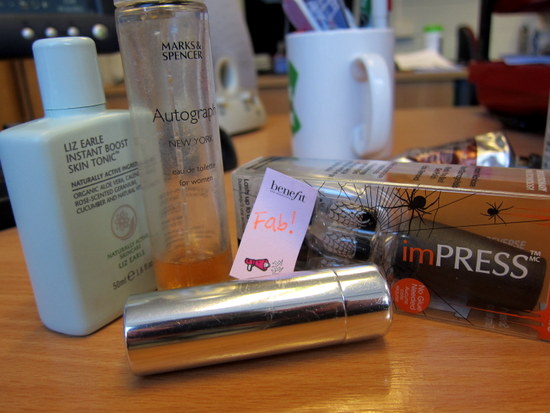 A quick rummage unearthed this weeny bottle of Liz Earle's Instant Boost Skin Tonic, which has been living in my desk drawer, along with a bottle of M&S Autograph New York perfume. I've kept this at work for, literally, years now -it's quite a rich, warm scent that's a little too sweet for my tastes these days, but it's down to the dregs and I'm determined to use it up. My favourite desktop beauty bit, though? It has to be these adorable little Benefit stickies - they really brighten up the working day.
Advertised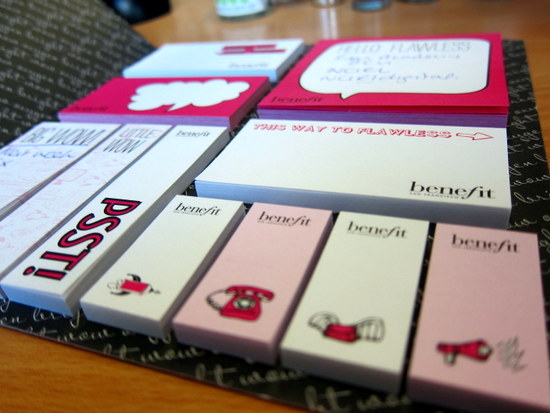 Now it's your turn! Tell us, what are your desktop beauty essentials? What's on or in your desk at work RIGHT NOW?!?