 Like it or love it, when you wear a red lip it can sometimes end up everywhere except your lips.
I remember when I used work in MAC and would frequently wear red or dark lipstick, and I would often find it in the strangest places by the end of the day. Like my arm for one.
If you are a red lip stick wearer and you have always struggled with keeping your lipstick on your lips where it should be, I have just the trick for you.
What you will need:
Your favourite lip liner
Setting powder
Tissue
Powder brush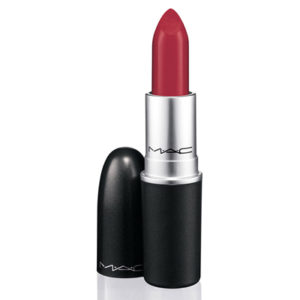 Advertised
First, map out the lips with your liner. Then colour in your whole lips with the liner. Next, apply your lipstick with a flat stiff brush. This will be the easiest way to get a perfect shape. Then, take a tissue and separate it into two. Use one to blot your lips before applying a final coat of colour.
Next, place the unused sheet over your lips. Load your makeup brush with powder and lightly tap it over the tissue to finish.
The thin layer of tissue will act as a filter and set without changing the colour. It will also help absorb any excess moisture from the lipstick keeping it on all day.
That's it. It takes a few more minutes than just applying your lippy directly from the bullet, but at least you won't find red streaks on your nose at the end of the day.