 Many makeup wearers like to prep the skin before makeup application. Can you spend small or do you need to splash out on luxury primers?
As a makeup artist, skin is always the first thing I think about when doing a makeup look, regardless of whether it's a natural one or something with a bit more dramatic flair. Foundation, concealer and powder all play a part in creating a beautiful base but so too does a good primer. But what constitutes a good primer? And do you have to spend big on luxury primers to get the best results?
I've tried countless formulas over the years (in varying price brackets) and have always had my favourites. I decided to branch out recently, testing three luxury primers I've never used before to see if they're really worth the moolah. Here's how I got on.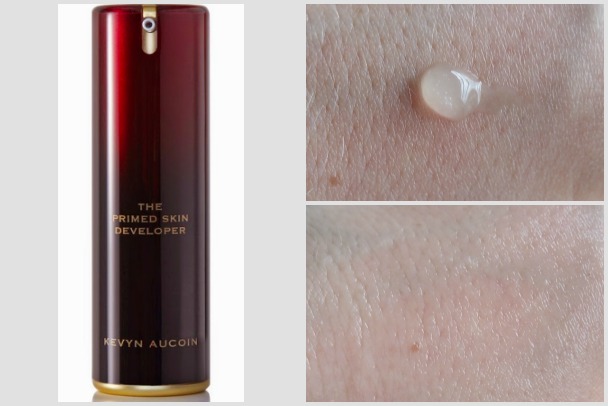 Kevyn Aucoin The Primed Skin Developer €67.99 (Space NK)
Designed to be not only a primer but also a treatment for skin, this works to refine the texture and tone while you're wearing it.
This primer has a very light, gel texture which glides over skin, making it feel like it's drenched in water. Once it soaks in, you're left with a smooth base that foundation blends over seamlessly for a smoother, more flawless finish. Throughout the day, any areas that I know would normally get oily had more of a soft glow that looked healthy rather than shiny. So, yes, it's an expensive purchase, but you only need a tiny amount. In the long run, it'll last longer than a normal primer so I, for one, didn't mind the initial investment.
Is there a dupe? Not really, but the closest thing I can think of would be the Bourjois Happy Light Luminous Serum Primer (€15.99), which, also has a light texture and gives skin a subtle glow.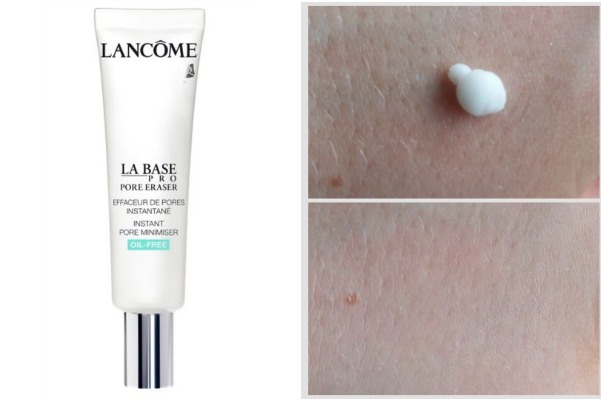 Advertised
Lancome Le Base Pro Pore Eraser €30
Much like Benefit's Porefessional, this is a smoothing, mattifying primer that is designed to blur out the appearance of uneven skin texture to give a more airbrushed finish to your makeup.
For anyone who has oily skin, this is certainly a safe pair of hands. You can see here in the picture that it really does blur imperfections to give a smoother finish. Again, a little goes a long way. If you want, you could choose to use it just across the T-Zone or around the nose. I found it also worked well as an eye primer/base too because the formula has a powdery finish when blended out.
Is there a dupe? L'Oreal Studio Secrets primer (€21.99) works in exactly the same way so if you're not sure about going luxury; you can test out the high street version first.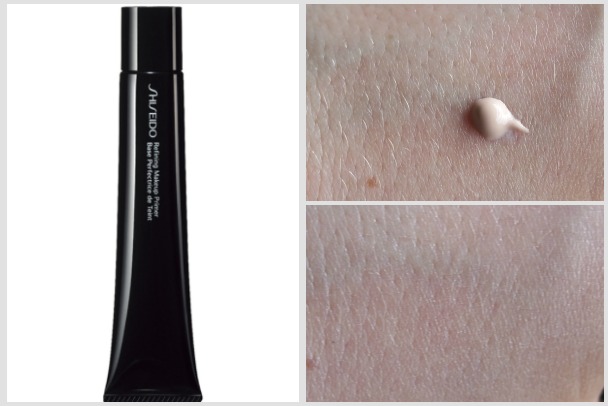 Shiseido Refining Make-up Primer €41.26 
A smooth, creamy formula that works for any skin type. This primer is designed to give radiance and also reduce the appearance of pores and uneven skin texture. It also contains SPF 15 which means while it'll help (a little) to protect against sun damage, there isn't enough of it to cause flash back in photographs should you decide to use it for a special occasion (yay!).
When I tested this, I really liked the feel and texture of it, and it did make my foundation stay on longer for the day. The only slight problem is that there's a bit of a pink hue to it, which means that any little areas of redness around my nose etc. were made more visible. I've since tried it on a couple of more mature clients and also those with more of a sallow complexion that needed a little brightening, and it worked really beautifully.
Advertised
Is there a dupe? Catrice Primer & Fine (€4.99) is very similar in both tone and texture but wouldn't have quite the same staying power.