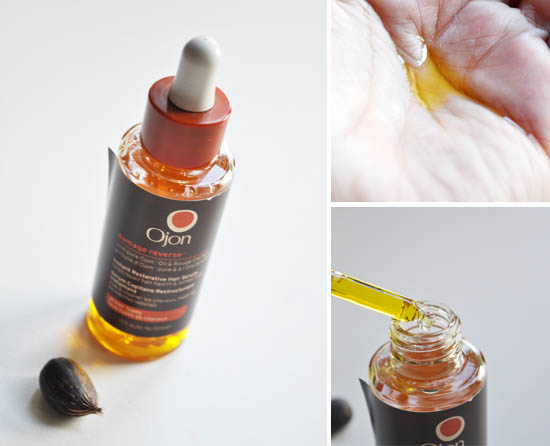 A new product from Ojon, Instant Restorative Hair Serum, €26.50 for 50ml, is the brand's attempt to jockey for position in the argan oil race. You know, the one that Moroccanoil was winning for ages, but its dominance is now wavering as loads of newer offerings come on stream from brands like Orofluido, VO5, Schwarzkopf, L'Oreal Professionel and now Ojon.
What's the point of difference though? Firstly, ojon oil instead of argan is the active here and where all the others are significantly propped up by lashings and lashings of lovely silicone, Instant Restorative Hair Serum goes it alone [EDIT - see the last para below!] with just a magic goody called Rouge Oleifera extract. Ojon basically smushes this out of the fruit that surrounds each ojon nut and the result is rich in antioxidants like beta-carotene and essential lipids like triglycerides.
I love silicone though - or rather my fine, frizz-prone hair does - so how does this perform? Can it actually stand up in a market saturated with hair oils that yes, contain snythetics as well as botanical oils, but which work?  Ojon also claim that this serum not only sleeks tresses but actually repairs damage too. None of its competitors make a repair claim - their results are purely cosmetic and wash out - so this product has a lot to live up to under test.
Speaking of which, I've been trialing it for a few weeks now. How have I gotten on?
Firstly, unlike Aisling's experience with the Restorative Hair Treatment,which she really liked but which stank of fags (yargh), this has no real discernible scent. Phew! Secondly, you use it the same way you use any of these hair oils: measure out two-to-three drops and smooth through the mid-lengths and ends of damp hair post-washing. You can also use between washes to keep frizz in check. It's much thinner in texture than Moroccanoil, and a lot more like VO5 Miracle Concentrate.
Advertised
Does it pack as much of a punch as it's silicone-based sisters though? Very nearly: it definitely works in the same way any of these hair oils do (smoothing, sleeking and de-frizzing) and I didn't really miss the fact that there was no silicone in there; this performs almost as well, making it a decent substitute for someone who is trying to go 'cone-free with their haircare - and I know there are loads of you out there.
As for the repair claim, well; the jury's still out. I found myself using it each time a couple of days after I'd washed my hair to smooth ends again (I'd do that with a lot of oils though) so as of yet, I don't think it's fixing anything much. Time may tell on that however - I'll let you know!
Price-wise, it is expensive. It's certainly costlier than Moroccanoil which costs €38 for 100ml, and it's a heck of a lot dearer than the VO5 cheapie, as well as being more pricey than Mythic Oil from L'Oreal Professionel or Orofluido, for example. That's worth noting - but currently it's the only one I'm aware of (barring using pure argan oil I guess) that's not using any petrochemical by-products and for many, that's worth paying a premium price.
The last thing that's worth pointing out about this is it travels really well. I've taken it away twice now with nary a drop spilled. Moroccanoil is a nightmare to transport and always leaks. This behaves impeccably, so props to it for that.
EDIT! Bah - it turns out this does have silicone in it, three types in fact, despite being told there was none.  They aren't the first ingredients listed, which is a feature of all the other argan products I've used and which essentially means silicone is the largest single ingredient. So, while it's not silicone-free (gah) they're the 4th, 5th and 7th ingredients used, with coconut oil, sweet almond oil and octyldodecanol (a fatty alcohol) making up one, two and three. Disappointing, but there you go.