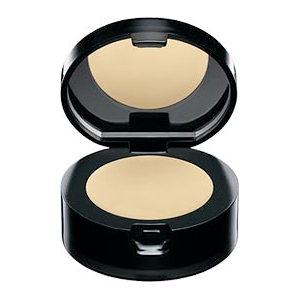 And here I am again with another can't-live-without: Bobbi Brown Creamy Concealer. While I find I don't love her foundations, I'm firmly in adore with this.
In 14 shades and two options (concealer solo or in a double-decker pot with powder), I'd opt for the solo job next time as I just don't use the accompanying powder at all, so as far as I'm concerned, it's a waste of product and money. Where it has advantages is if you have superb skin and only need a slight whack of concealer for blemishes. Set them with the accompanying powder and off you go. Me?  I wait till foundation is on before setting the lot.
So, what do I love about this? The packaging is sleek and nice, but that's incidental to product performance. There are two things I love about it. Well, actually, three:
Advertised
Porcelain is perfect for my skintone
This stuff really is creamy, and that's important for a product you're layering over blemishes and spots or around the eye area
Pigmentation and coverage is great - I use this in at the inner corner of my eye, and ta dah! Instant lightening and brightening (and hopefully a few years off, too)
It's really malleable and easy to work with, melting slightly on the finger (of course you can use brushes but I usually use my pinkie) and placing and blending well right where you want it.
OK, that was four. But seriously, what more could a body ask for, eh? Well, nothing, except a spare €23 with which to replace it.