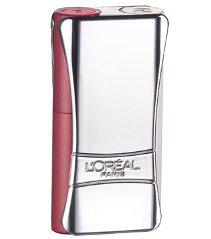 You're probably seeing ads for this doozie cropping up all over the shop at the minute. Yet another variant on the ultra-longwear lipcolour concept, this gimmick gadget from L'Oreal features individual tubes of colour and balm that click into a super shiny mirrored case. Like other products in the same vein, you whack on your chosen colour and then top it off with the balm to lock in moisture and add shine.
Available in a choice of 10 colours, Infallible promises to stay put even through eating and drinking and L'Oreal reckon it has a wear time of up to 16 hours.
Now, I haven't yet tried this stuff but I'm not generally a fan of these longwear lip yokes. Any that I've used in the past have required application of the topcoat every 37 seconds to stop my lips from looking and feeling like they're about to crack right off my mush and left my lips parched and flaky after use. So I might give this laddie a miss - fifteen times bitten, twice shy and all that.
Advertised
If you fancy having a go of L'Oreal's Infallible Compact yourself, it's available now from Boots and usual stockists nationwide.