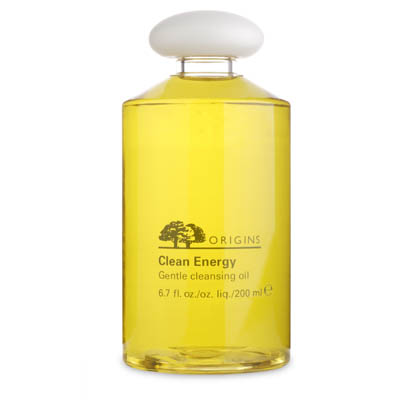 Before now, I'd always liked the idea of oil cleansing, but had just never found a brand that I liked. Some felt too heavy on my skin and didn't rinse off easily, some were overly-fragranced and the packaging was just too messy and inconvenient on others. But like Goldilocks, I have finally tracked down one that is just right - Origins Clean Energy Gentle Cleansing Oil.
What I like about it:
It contains no mineral oil, which I prefer to avoid, and instead uses a lightweight blend of olive, sunflower, sesame and safflower oils to remove dirt and makeup gently and without leaving a film on the skin
Fragranced with essential oils of lemon, grapefruit and orange, this oil is refreshing to use and doesn't leave any cloying scent behind once rinsed off
In addition to the cleansing oils, kukui nut and macadamia help the skin to retain moisture and vitamin E calms the skin
One pump provides plenty of product to remove even heavy foundation or sunscreen, so this bottle should last me a long time
Advertised
As with all cleansing oils, Clean Energy goes to work as you massage it into the skin, then emulsifies with the addition of a little water, leaving a milky liquid on the surface of the skin which can be easily rinsed clean, though I like to use a muslin and warm water to ensure my skin is well cleansed and there's no trace of product left behind.
Priced at €23, this is in the price bracket I usually expect to pay for good quality skincare made with plant-based ingredients. The plastic bottle comes with a screw-on cap, but a pump can be purchased separately for €1.50. Since the pump is really necessary to avoid spilling the precious oil down the bathroom sink, I do think it's a bit cheeky that Origins charges extra for it.
I've been using Clean Energy for just over a week now - long enough to know that my skin loves it. It is looking clean, clear and well balanced - the dry patches on my chin have cleared up and the clogged pores I was dealing with around my nose have also disappeared. Definitely a winner, this will no doubt become a permanent fixture in my bathroom cabinet from now on.