 I love when something does more than it says on the tin. And when it comes to make up, that means more space in your make up bag. Score!
This week I went on a mission to not only save space in said bag, but to find products that do a lot more than they say. Thanks to the make up genius' out there, most brands know that one product can do your lips, cheeks and eyes. This is great for travelling so we applaud you lovely brands who help us with our luggage weight. So what did I find?
1. YSL Kiss and Blush (€30)
This one has the best pigment, and blend-ability of all the products I tried. It comes in a bottle with a very handy applicator to apply directly to your lips. To use for your cheeks, I put some of the product on the back of my hand and using my fingers I pressed the product into the apples of my cheeks.
The colour really does stay put, and being more of a luxury option it is more expensive, but I imagine this one lasting a long time.
Advertised
2. Benefit Benetint (€34.50)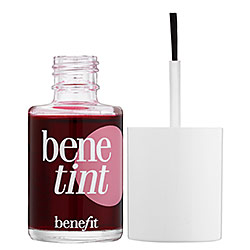 The clever ladies of Benefit were probably one of the first brands to do the multi-use thing. I love this because it's like a liquid so when applying to your cheeks, the colour is quite sheer which you can build up or leave as is. For your lips apply this with your fingers, and to deepen the colour simply layer it up. This dries quickly, and I think this is why it lasts so long.
3. Penneys PS Love Lip Liner (€1.50)
Advertised
Ok, so not technically a multi use product as billed, but I can't tell you how good this lip liner is for three things. First, as its classic use, the pencil is soft and applies really well as a liner. But try it as your main lip colour. Draw the liner first, then fill in your lips for a nice matte finish. The surprise is that the pencil is actually quite soft so it's not that drying on your lips at all. Then, draw a little on the back of your hand and press into your cheeks for a nice pink blush. So much for so little!
Have you got a multi-use product that does the job? Is it good value for money too?