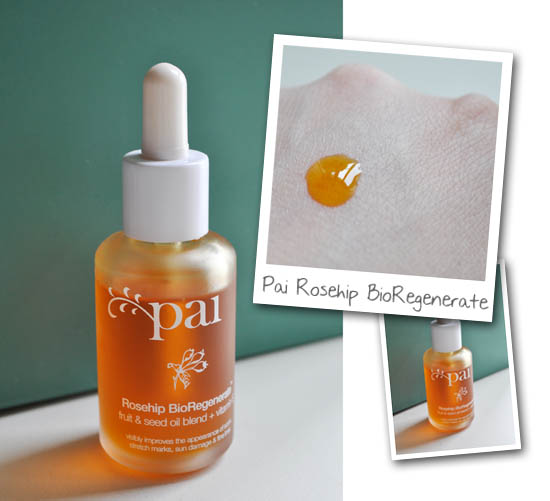 This came from the brand a few months ago as a testing sample and I, ever eager to try a new oil, gave it a pretty much instant whirl.
Pai Rosehip BioRegenerate Oil, €24, has absolutely tons going for it: it's Soil Association-certified which means it's had to go through a lot of rigorous testing processes to do with its ingredients, its packaging, its processes and more, all to ensure that it is an organic product. Even if you're not bothered about organics, these marques are effectively quality symbols, and everyone appreciates quality. It's not a straight-up rosehip either: it uses a concentrated version of the fruit from the hip, with twice the regenerative sterols and five times the caretonoids of seed oil. There's also vitamin e in there for added antioxidant benefits.
Packaging's nice, the dropper works well (often a bugbear) and the price is fine too - it compares well to competitors like Trilogy for example. You can buy this in Nelson's here, or online from Pai's website.
But the baffling thing is, my face didn't really it.  It just didn't seem to be enough used solo - and I'm a long-term user of oils so I do know what I'm doing. Two-to-three drops didn't cut it, neither did four. Skin just never felt hydrated enough when I was using it and my eyes looked crepey - a sure sign my routine's not rich enough. So while this is lovely and a quality product, it's not enough for my dry skin solo - for a more normal-to-dry type, definitely take a look. Me, at the time resolved to keep it as a 'mixer' and use it combined with creams or other oils.
But the story doesn't end there: in August I took a tumble coming out of a shop one morning on an ill-placed mat and landed badly on my elbow.   Staff in said Centra looked on unconcerned as I raised my bleeding, ripped tight-ed self off the pavement and a nice lady passerby offered to help. Limping to a cab, blinking back tears, I got myself into the office with blood dripping down my elbow.
Advertised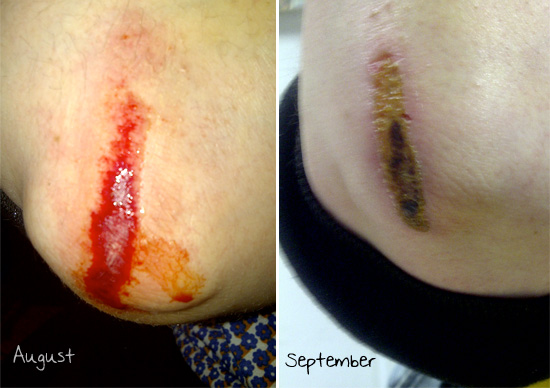 Gick pictures alert! Left is straight after I fell and on the right is a week or so later. The scab got muuuch worse, but I decided to spare you ...
Turns out I hadn't really done much damage (except to my pride) but bruised the bone and scraped all the skin off the elbow, a bad place to loose it because you move the joint so much, which made the whole thing pretty painful.  Once the - urgh - wound had closed, back out came the bottle of Pai Rosehip oil and I lashed it on liberally a couple of times a day because this oil is known to help with the reduction of scars and stretchmarks - Trilogy has done clinical trials to prove it.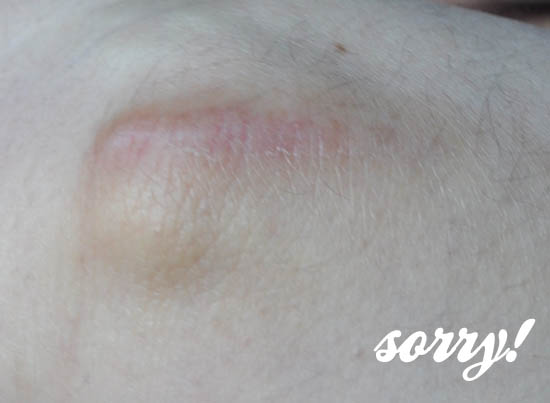 Here's how the elbow looks now, a couple of months on
Advertised
Ok, lets get real: the cut would have healed on its own of course, but I do think this helped. There was a massive scab there and the oil helped keep the surrounding skin moisturised and flexible. As the area healed, it seemed to be calmer and less red than I'd have expected. Yeah, the scar is till there - it wasn't a small cut, but hopefully it will go over time and be less invasive-looking than it might otherwise. I'm using the oil still when I remember - probably two-to-three times a week.
An elbow up for Pai Rosehip BioRegenerate Oil? From an unexpected source, I think so.