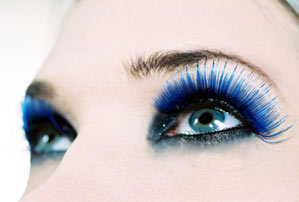 Princessa hurried as fast as her shapely legs would carry her to the new Eyelash Bar to check it out. Here's what she thought:
"After hearing all about eyelash extensions in the last few months and how eyelash bars are as popular as pedicure places in New York, can you imagine my excitement when Ireland's very first eyelash bar opened in the Powerscourt Centre in Dublin a couple of weeks ago! The shop is oh so chic, and boasts an array of false eyelashes all tastefully displayed in glass cabinets. They have eyelashes that you've never even dreamt of, from human hair to funky feathers - be still my beating heart!
"The girls are fantastic, they offer help once, but everyone is more than welcome to browse on their own. Prices range from €17 - €25 for a pair of eyelashes and there is a €5 application fee. They also offer individual eyelashes for €25. False lashes stay on for two days whereas the individual lashes last about a week. As I am a total clutz and would be in severe danger of gluing my eyes closed, I opted for the in-shop application offer
"It takes only 5 minutes to apply the false eyelashes, or 15 minutes for the individual lashes. I had the strip lashes put on - they can be applied with or without mascara on. My eyes looked fantastic afterwards and I didn't feel that I was carrying extra baggage on my eyelids! All my friends noticed that there was something different about me, but couldn't put their finger on what it was - which is exactly the look I was going for! And the best
part....the eyelashes came off with total ease using an oil based makeup remover!
Advertised
"I already have an appointment made for Saturday week to try the individual eyelashes!
This place is a little piece of heaven for your eyes!"
Oh I'm loving the sound of this so much. Form an orderly queue, cos I bet you all are too!