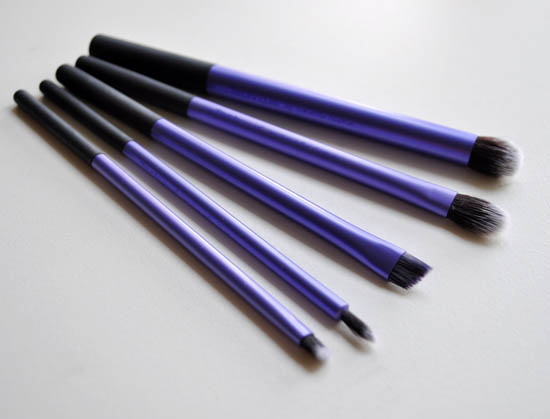 The blogosphere wobbled on its axis earlier this year with the weight of excitement and blog posts all about Samantha Chapman's forthcoming brush line for Real Techniques. One half of the famous Pixiwoo makeup artist sisters who've set YouTube alight with their makeup tutorials and down-to-earth ways, this English pair are fantastic and we've followed their career with interest. We're delighted to see things are going so well for them - they've recently bagged gigs with Avon and The Mirror and we say, fair play and more power to you, ladies - long may your success continue.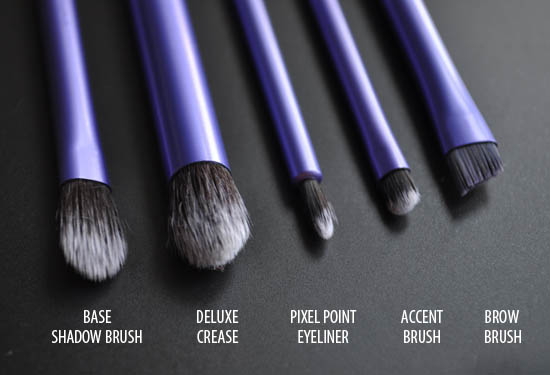 So, naturally enough I really wanted to check out the brushes. Primarily aimed at the US market where they're on sale at Ulta (a Superdrug-alike beauty retailer), on this side of the pond, we can buy the line online from Love-makeup.co.uk. There are a variety of sets and individuals on offer; I bought the Starter Set for £20.99/€24, which contains five brushes for eyes in a little case.
It is incredibly important to note that this is not a high end product - you're effectively paying €6 per brush - so I was never expecting the Real Techniques by Samantha Chapman to pitch up beside Shu Uemura's handmade Kolinsky brushes, for example. But I did actually expect them to be a little better than they are, despite the fact that there are a huge number of pros in their favour. Lets look at all the great things they've got going on first.
THE GOOD
The brushes are cruelty-free, created using Taklon bristles, a synthetic fibre, and they're firm and well packed, feeling soft on the skin
Because they're synthetic that also means they're excellent for use with cream products, and can be dampened or used wet
They're affordable and allow entry-level access to a good brush brand for most beauty lovers
They're well made and attractive-looking, with anodized aluminium handles and no extra ferrule to break away. Bristles are pressure-fit into place
They come with a carry case
They're a nice size - smaller than most of my 'pro' brushes, they're not quite travel-sized but they're easy to take about with you
They wash well
They're inexpensive
THE BAD
Em, how could there be anything bad after all that? Well, there's one very large elephant in the room with the set that I bought and it's this: the brush heads themselves are badly thought out. They're very odd sizes and here's the rub: it's a tenet of design that what you create must be fit for the purpose for which it's intended.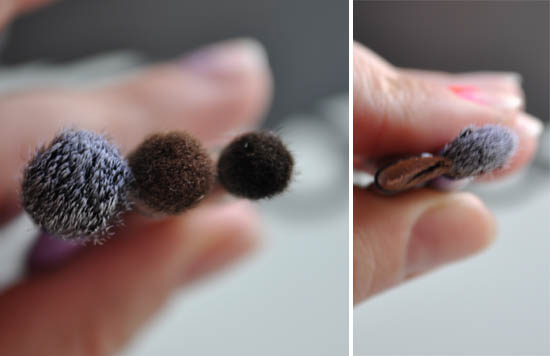 Advertised
Deluxe Crease compared to more normally-sized crease brushes beside it by Sonia Kashuk and Japonesque; Base Shadow Brush compared to a normal flat shadow brush
Some of these brushes simply don't work well for their intended usage. The deluxe crease brush is madly oversized and can't be used for placing dark shadow unless you want to be blending to your hairline - it's so big it places so much colour and is so unsubtle I was crying with frustration trying to use it. The base shadow brush is also far too big, fat and soft for what you'd generally want a base shadow brush for - i.e. the precise laying down of colour on the lid. It needs to be smaller, firmer and stiffer for shadow placement. These two are the worst of the five; the other three are better.
Of the bunch, I genuinely like the pixel-point eyeliner brush (it's also a bonkers size though that seems to work for it) and have used it a lot wet with powder shadows.  The brow brush is also ok though not stiff enough for my liking, and I'm a bit non-plussed by the accent brush, but I can use it to create smokey effects along the bottom lashline. Overall though, this starter set is a non starter as it's sold: you absolutely need other eye brushes to support it straight off the bat. I took it away on a weekend recently when I had no other brushes with me and was genuinely bereft; I felt really aggrieved, I just could not do my makeup properly with this set.
With so many good things going for them, and having spent money and delivery costs buying the kit, I got my thinking cap on. These brushes can definitely be used for other things. I decided to work around their intended usages and see if they'd perform better for other things - and they do.
If you've bought the starter set and feel like I did, then here's what I've substituted for the two I couldn't get to grips with; now I can get use out of all five.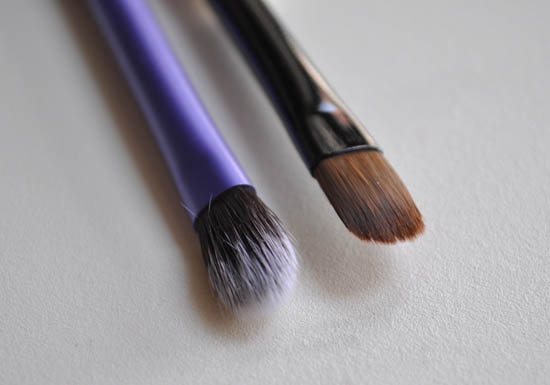 Forget using the Base Shadow brush for eyeshadow because it's good for cream and liquid concealers - there it is beside my more usual Bobbi Brown concealer brush. In fact, I'd say I prefer it to the BB version because it's much more pliable and soft and easier to use around the eyes as a result. It works a dream - loving it for this and will continue to use it happily as my go to concealing brush.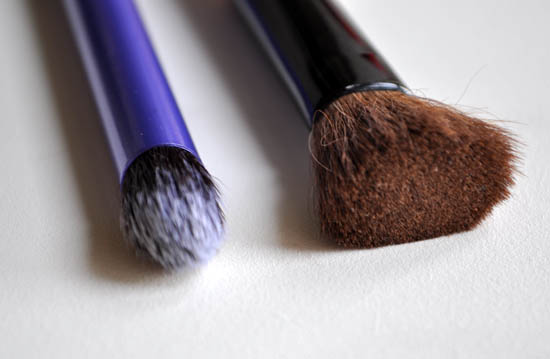 The oversized head of the Deluxe Crease brush was a nightmare for using in the actual crease, especially with dark colour because it made such a mess. But used as I do with my Bobbi Brown eye contour brush (which I use to sweep a bone coloured shadow all over my lid) it works well. I found it crap for dark or bright colour but it works well to spread base shadow shades quickly and simply over the entire lid, so I'm keeping it for that.
Advertised
So, from a shaky start I found a way to get the Real Techniques by Samantha Chapman brushes to work for me. Regardless, I expect to be using the majority of them for a good while to come, especially since I made those couple of swaps.
What about you? Has anyone tried them - and if so what did you think?