 Welcome to my new weekly column where I let you in on a product that I LOVE and can't live without. It might be an oldie but a goodie; it might be a recent launch; it might be a good old reliable, or it might be brand spanking new.
Either way, each and every week, I will tell you about a product I love that in some way, shape or form has rocked my world.
This week's choice is:
YSL Touche Éclat Neutralizers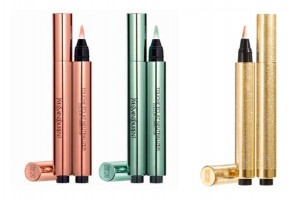 Advertised
For me, these have been missing from the Touche Éclat range for some time now, and it brings me endless happiness that they have addressed this issue and launched colour correctors for more than just one skin tone.
The regular Touche Éclat that we all know and love is a fabulous product and one that works on 70% of the Irish population because the majority of us have blue undertones in our skin. You see, it all boils down to colour theory. Pink (the colour of the original) neutralises blue so that is why it works wonders for some people - and not so much for others.
For those with a red or pink hue around the eye area and / or spots, they will need a green colour corrector to neutralise their redness. Or for people who have sallow skin, and have an almost yellow hue around the eye area, they will need the purple toned one to neutralise their discolouration.
Finally, YSL has addressed more than one skin corrective concern and for that, I am extremely excited. I am, therefore, awarding the YSL  Touche Éclat Neutralizers top place in my first product of the week.
I feel that this would make a great video so I can go into more depth with colour correcting makeup and how it works. If that is something you wold like to see, please comment below.
Advertised
Most people have tried or owned a Touche Éclat, but did you know these five facts about it?