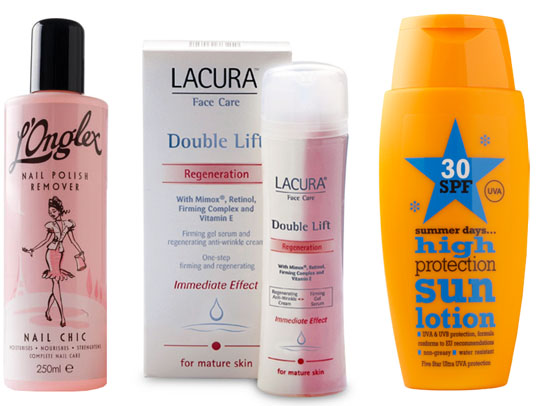 If I've been a little quiet on the blog of late, please forgive me, I know not what I do I've been working away behind the scenes at Prudence to bring forth the 2010 Best Buy Awards. It's a huge - but very enjoyable - task and last night the 16 category winners were announced at an evening reception at the Gibson Hotel down in Dublin's Docklands. It's pretty swanky - check out the Point market some weekend and nip in for a coffee - but sure you're not reading this to find out my thoughts on the interiors of the city's hotels, are you?
No.
No indeed, you want to know what well-priced - and surprise! - products made the grade this year and you'd be right. So, without giving too much away (after all, this nifty booklet is bagged with the September issue which will be in shops on the 1st, and I don't want to spoil all the surprises) here are a few bargain buys that made the grade.
Best Buy Award for Hands and Nails: L'Onglex Acetone-free nail polish remover, €3.67
Best Buy Award for Day and Night Creams: Aldi Lacura  Face Care Double Lift Regeneration Cream, €6.99
Best Buy Award for Sun Protection: SPF30 Sun Lotion, €2.70
Advertised
One of the nicest things about Prudence's awards is that they're not one bit advertising-driven, they're independently judged by industry experts and this year, as you all know, one of our readers got to sit in on and participate in the process to see all the above for herself. The Best Buy Awards are genuinely all about recognising what's good in the beautysphere - and particularly what's good at a decent price, which is often an element missing from glossy beauty recommendations.
Every category has those splurge products we all like to buy one or two of every now and then with the guarantee they'll perform, as well as all the other bits and bobs we like to slap on each and every day, which we tend to not want to have to hand over our firstborn for. Each of the 16 categories has one overall Best Buy winner, which scoops the gong for a variety of reasons - performance, usability, price, multi-tasking abilities and packaging. That's what you're seeing above.
In addition to the 16 star picks, this year's awards feature over 125 new buys culled from a long-list of over 300 products, over 45 beauty buys for under €15 (no mean feat!), two new categories in mascara and serum plus a hall of fame with contributions from some of Ireland's brightest beauty blogging stars.
It was a labour of love again this year but I - and all the team at Prudence - are really pleased with the outcome and naturally enough we hope you will be too. Happy shopping!