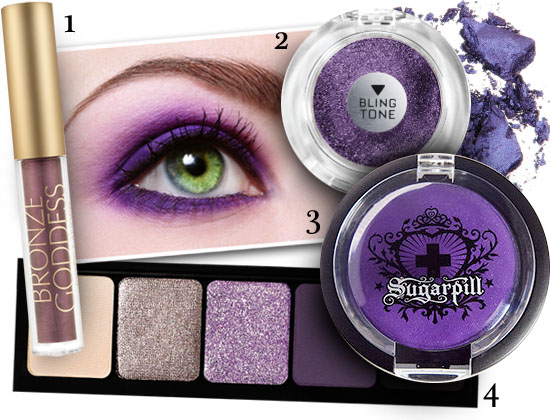 Despite hate hate hating purple in clothes - and almost coming to blows once with a pushy woman who INSISTED purple was oh-so-me (it's oh-so-not) - recently I have been blimmin' obsessed with it as an eyeshadow colour. I was a liner gal for years upon years, but the last year or so has seen me firmly return to powder and I'm pretty much loving it.
So, back to purple: like Aphrodite, Ultra Violet's the shade I'm lusting after and nothing in my current arsenal is really doing the trick. I've been lashing my lids with shades from lilac to deep, dark damson courtesy of brands like Bourjois, Giorgio Armani, By Terry, Fuschia and Shiseido, but nah, something's just not quite right with all of 'em. I'm after an almost liquid-looking finish - I want depth of colour, shimmer and a metallic shine. Oh, I want it to be highly-pigmented with great staying power too.
So really, I'm not looking for much.
Advertised
I have moderate hopes for Bobbi Brown's Orchid colour strip (4), launching in May, though the glittery shadows tend to deliver more of a wash than deep colour, and I've also got my beady eye trained on Myface's Blingtone in Purple Haze (2), which promises a deep, metallic finish. Indie brand Sugarpill have this gem on offer: Poison Plum pressed eyeshadow (3) is a dramatic purple with a semi-pearly sheen, and I'm liking the Lime Crime-esque direction of the shades on offer.
Estee Lauder's Bronze Goddess Liquid Shadow in Ultra Violet (1) was initially what I thought would fix the problem but as noted, in wear, it's better as a liner or as a base for powder. It's also a lot brighter on the skin than in the tube, which is great, but I just found it a little tricky to work with.
So, while I know what I want, the problem is, I can't find it. Unless Illamasqua suddenly bring out a purple Liquid Metal just specially for me, or Vincent Longo's eye shimmer souffles arrive on our shores, I think I'll be looking for a while yet. Can you solve my dilemma? Leave your blingin' purple recommendations in a comment!