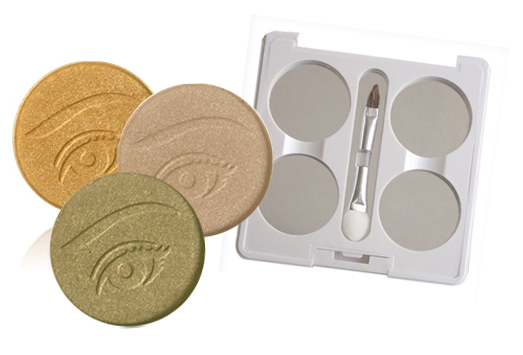 Lynnie told you all about e.l.f recently and I've been a slave to road-testing some of their products over the last while too.  No doubt I'll write about a few more of them shortly, but right now, lets have a little chat about their Custom Eyes eyeshadows.
At €1.68 a pop, I didn't have high hopes. The outer packaging is uninspiring and you open it to reveal a naked pan of shadow (the same size as MAC, if I'm not mistaken), which you can then  pop into a palette, also €1.68. For the price, it's not bad at all - a fairly chunky white plastic case opens to reveal four wells, into which the pans stick magnetically. There's also a decent mirror.
I dutifully slapped in three shadows (Pink Ice, Golden Glow and Sage) and looked at them. Bit dubious. They're very soft and crumbly to the touch, and as talc is the second ingredient listed, I was ready to write them off completely.
Throwing out the little spongey applicator that came with them, and in a hurry en-route to the ModelCo launch, I thought I'd check out Sage. I've been on a MAC Sumptuous Olive trip recently, so while Sage is more matte, it's very similar in shade, and I thought it'd work.
Advertised
It did - despite being very prone to shattering into dust, e.l.f shadows are easy to work with and apply and blend well - remarkably so considering the tiny price. The pigmentation was pretty good too, but how was the longevity? Considering I applied it at about 3.30pm and it was a hot day, and I didn't Eve Lom it back off till about 1am, it was all there. Yes, I have dry skin, but it had hardly creased, a lot came off on the cloth, and I think that's impressive for the price.
With only ten shades on offer, e.l.f aren't going to be squaring up to the big colour boys any time soon but a small investment for a palette and four neutrals would be a great - and very inexpensive - buy for work or daytime.