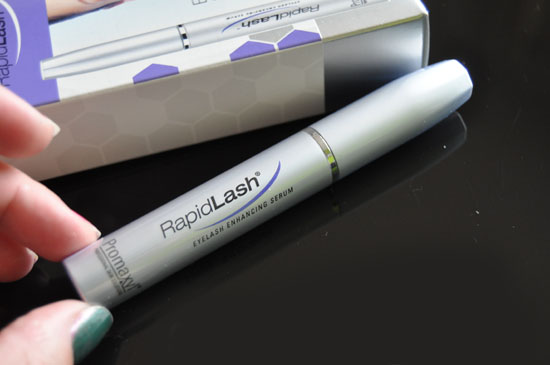 It had a massive waiting list at Boots  - thanks to a buzz that grew State-side before it crossed the Atlantic - even before it hit shelves and Rapidlash looks set to become a repeat sell-out product too.
So what is it? Basically, it's a serum to embiggen lashes (thanks Jebidiah Springfield). As we've noted before, these sorts of products don't cause hair to grow where there's none - if they could do that, there'd be no bald men around the place, eh? But what things like Rapidlash, Lancome Hypnose Precious Cells, L'Oreal Paris' Renewal Lash Serum and Revlon's forthcoming Grow Luscious mascara all have in common is that they're super-charged lash conditioners, containing ingredients designed to feed the follicle as many nutrients as possible. That's how they promote lush growth.
Unlike the last two products mentioned above, this isn't a mascara. Rather, it's a brush-on serum you apply once daily before bed, for eight weeks. So it doesn't interfere with your regular routine and you can carry on using your own favourite mascara products - a bonus. At €49.99, it's not a bargain, but neither is it the most expensive one of these products we've seen launched - Latisse costs about twice as much for example, and can only be gotten on prescription.  No such worries with this as it's over-the-counter, and clinical trials showed the measured visible length of lashes was increased by up to 50%.
Advertised
Not just for those who want long lashes, this is also good for anyone who's abused theirs by pulling, attaching lash extensions or who just has a fairly puny fringe. But does it actually work? We've got one out to test with a reader, and she'll be reporting back - complete with before and after shots - in a couple of months time.