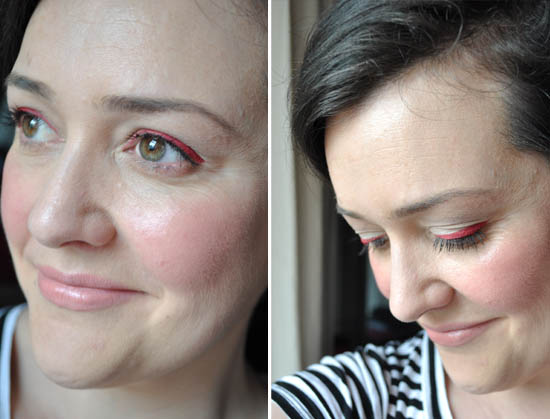 I promised yiz I'd give it a whirl and I have: in Aisling's post a week or so ago lamenting the Olsen twins' red eyeshadow, she also included a backstage pic of some stylin' tomato-bright liner at a 2010 Derek Lam show that I decided I quite liked.
Opinion was fiercely divided amongst you all as to whether red was rappa or revolting so I said I'd give it a go. I'd dabbled with crimson before and initially went looking for a burgundy Anna Sui liquid liner I'd bought off Strawberrynet yonks ago to try it on for 2011 size. I've evidently chucked it as it was nowhere to be found, and I lacked any other really decent red shadow.
What to do? I was gonna head down to Make Up For Ever and buy one when I had a thought. Here, I've more than a few pillarbox lip liners littering up the bathroom and they'd do absolutely perfectly for a quick trial to demo the colour. Plus, it'd save me €15 on a shadow single I'm not terribly likely to get a massive amount of future use from.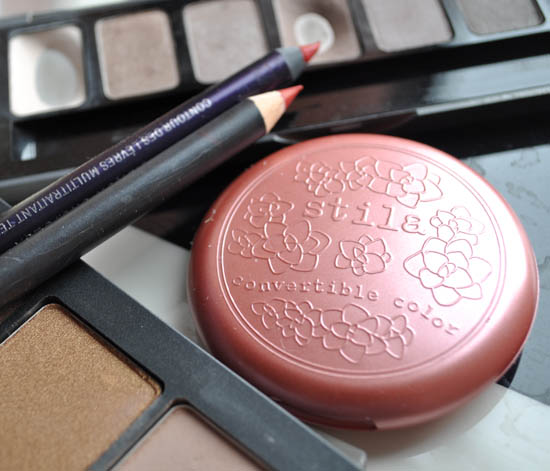 Advertised
I got busy. My weapons of choice to prep lids for liner love were an Inglot Freedom Palette with some neutral shades and my trusty Bobbi Brown Stonewashed Nudes. My red liner came courtesy of Mac Lip Pencil in Redd and By Terry Crayon Onctueux Multicare Lip Definer in Very Rouge. Tip: lip pencils, nicht gut for eyelids. They HURT. The By Terry one is softer so I used it to create the line and then I sharpened and defined it with Redd, to get it neat.
Because red on lids is quite strong, I didn't do much else - base was YSL Perfect Touch, lashes were a couple of coats of Lancome Doll Eyes mascara and cheeks and lips were both Stila Convertible Colour in Lillium, which I picked up at the new stand in Liffey Valley the weekend of opening. Loving this - a very pretty shade and extremely easy to wear. It doesn't fight with the red liner at all, but takes the edge off it, which is what I was going for.
And y'know what? Despite Aisling recoiling in horror, I liked it. I'd even wear it again. (The lip liner didn't transfer, by the way).
So, bitches, that's what I did. What do you think? Like it, loathe or are you on the red-painted fence about it? Leave us a comment!