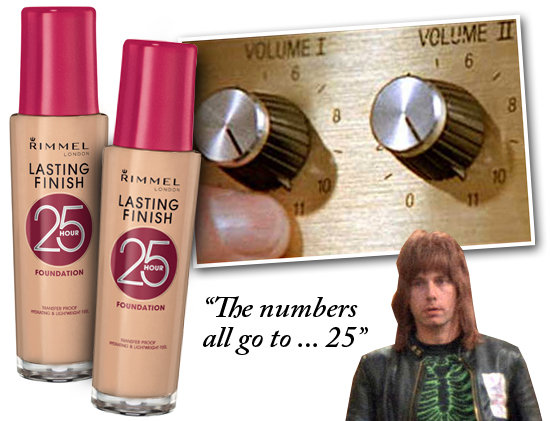 Maybelline was sitting pretty as long-lasting base top dog for a while there with its 24 Hour SuperStay foundation - you may remember that Aphrodite put it through its paces good and proper last month and gave it an enthusiastic thumbs up. There's a new pretender to that long-wear throne, though, in the shape of Rimmel Lasting Finish Foundation which goes one better and claims to stay put for a whopping - you guessed it - 25 hours.
Now, since most of us are only actually up out of the scratcher for about 16 hours or thereabouts at a time, that might seem like overkill. But sure it makes this foundation the ideal choice for all-night-and-next-day underground parties in Berlin and the like.
The blurb associated with it makes for interesting reading: words such as "lightweight", "ultra-comfortable", and even "moisturising" and "hydrated" don't immediately come to mind when I think of a 25 hour formula, yet they're right there in the press release alongside the more predictable "long-lasting", "shine control", and "transfer-proof".
Advertised
Long-wear foundations tend not to suit drier skins, so it'll be interesting to see if this Rimmel offering can live up to the hype. Me, well, I don't have dry skin but I'm very interested in that last Ronseal-sounding claim and fully intend to rub my bemaked-up face on the pristine white shirts of Don Draper strangers to put it to the test.
Available nationwide in six shades, priced at €8.75.