 Just when we thought Ciate couldn't get any more fabulous they bring us this AMAZEBALLS Chalkboard Mani kit (€29).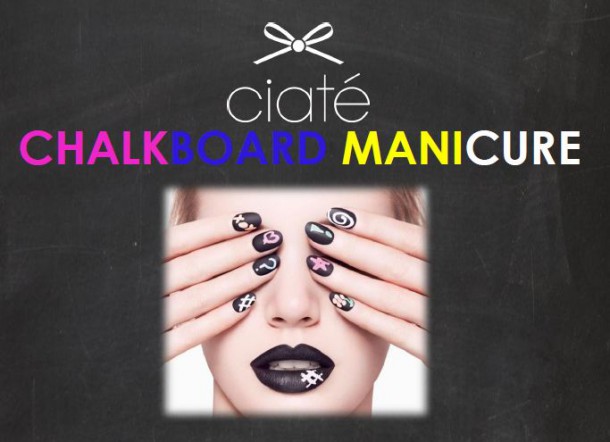 It's cool, edgy and a direct counterpoint to all the pretty summer shades around at the moment.  If you fancy channeling your inner Goth (and sure why not) then give this a go.

Advertised
Although the kit includes a little booket of tips and suggestions, the only rules are that THERE ARE NO RULES.  Well em, except these ones.  But artistically there are no rules.
Paint your nails with two coats of the matte black Paint Pot.  Once it's dry start scribbling with the coloured Chalk Pens until you're satisified with your artistic endeavours.  If you make a pigs ear of the doodles, no worries, you can just wash them off with water and begin again.
The designs don't set until they're sealed with the Mattnificence Top Coat.
We'll be first in the queue to get our nails painted when this lands in Ireland next week and we'll be sure to be sure to bring you more pics from the launch.  For the month of June, Ciate will have a Pop Up Shop in BT2 and will be showcasing the Caviar, Chalkboard, Colourfoil and Fairground shades.  You can Pop In and get a taster done on your nails (not a full manicure, don't be greedy) of whichever kit you like OR a taster of all of them - one on each nail!  And it's all FREE!
What do you think?  Liking the look of it?
Advertised
Exclusive to BT2 for the month of June 2013
Get Beaut.ie Delivered
Stay updated with Beaut.ie newsletters full of the latest happenings at Beaut.ie as well as great offers and things we think you might find interesting .