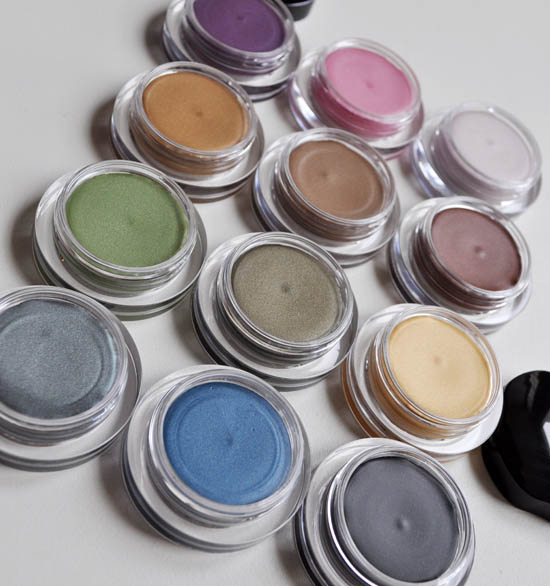 Two confessions about Shiseido's new Shimmering Cream Eye Colours, which have been on counter now since mid-September. I couldn't wait to get my hands on them; like, couldn't wait. They arrived weeks ago, I lined them up, photographed and swatched them extensively, oohed and aahed over the pretty packaging and colours and then ...
... well, then I didn't use them.
Because quite frankly I have a bit of a hard time with cream shadows. I'm not very good with them for much more than using them as bases for powder or pigment. I can manage to work them into my makeup occasionally but only in neutrals (easier to mask mistakes, y'see). I find that they seem to present more in the way of tricksiness and technical challenges than powder, and god, life's just too short. Blending's a problem (they can set and then you have a hard line of pain and grief), oh, it's all a faff.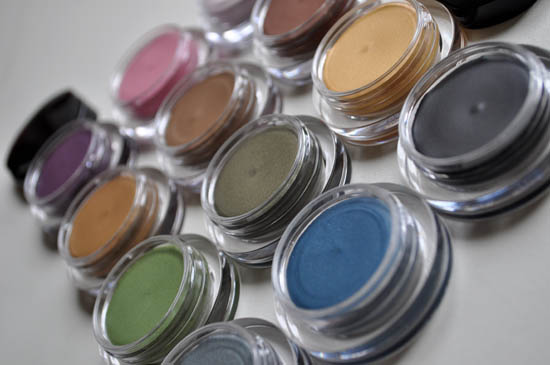 Anyway, all that aside, I felt I owed it to them to really give them a real actual decent trial beyond mere swatching. So I did.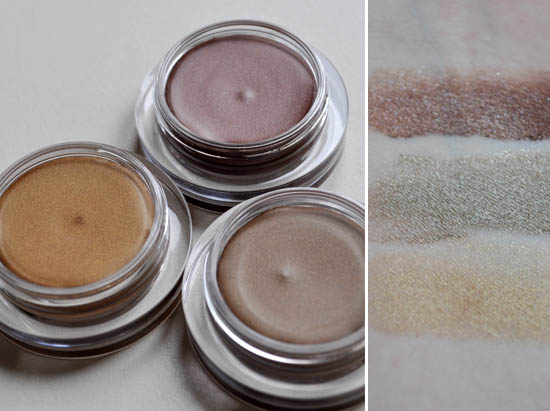 Before we get to that, though, here are said swatches. Like the name says, these shimmer. All of 'em. And they're not cheap, at €28 a pot. For that you get 6g of smooth, evenly pigmented cream that's shimmery, cool to the touch (though I might be imagining that) and which feels luxe and has great slip. No drag here. So that's a good start.
Shades above are (in swatch order: BR306, BR709, BR204)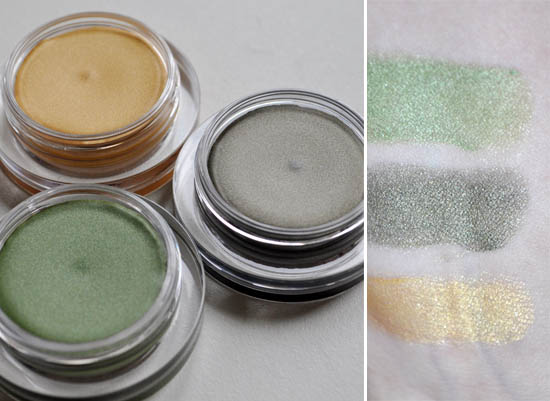 Again, in swatch order: GR708, GR707, GD803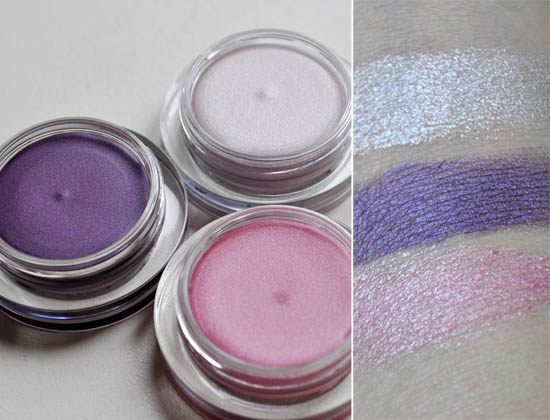 Advertised
WT901, VI305, PK302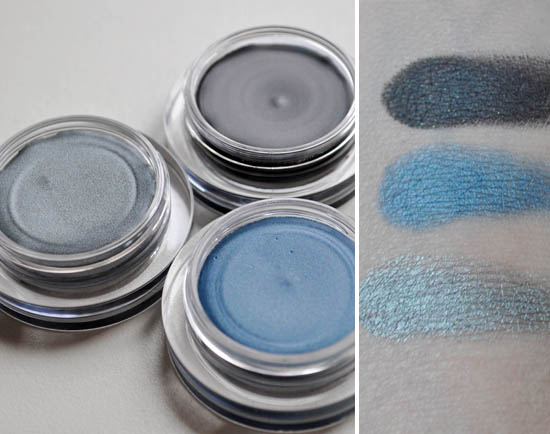 BK912, BL711, SV810
Ok, so you can see the depth of pigment, the opacity and the shine above. I've been swayed before by products by Make Up For Ever's Aqua Creams - which are amazing, but they're in a different league to these, being a pro product. Thick, super-intensely pigmented and powerfully able to be used as makeup and body paint, in the end all but the neutrals in the range confounded me.  They were just too ... alpha ...  if that makes sense.
As pro products, perhaps they over-performed for my daily needs and I find I just don't reach for any of my strong Aqua Cream Shades now, because they're more work than I'd like. I'm not a makeup artist though, and Shiseido Shimmering Cream Eye Colours are designed for real women. Phew.
Dick Page, the brand's makeup maestro, says of 'em, "I think it's the best cream shadow on the market," and my inner sceptic says, well of course you would say that now Dick, wouldn't you, but these are a different beast altogether from the MUFE version, which, based purely on visuals, they will be compared to.
But there are two things that are markedly different here: texture and blendability.
And it's blendability where Shiseido score the win, in my opinion, for us real gals. Makeup artists will continue to use and love their Aqua Creams, I have no doubt. They're brilliant, and you can't use Shimmering Cream Eye Colours as body paints. But you can use 'em really well on your eyes, which I'm guessing is what most of us want.
And so, when I did brave the bathroom and try these out, I was pleasantly amazed at how easy they are to use. Lay a block of colour down on the lid with a brush (I used a synthetic as they're creams) but you can then blend out with a regular hair fluff brush or blender and it's as easy as working with powder. No hassle. The cream diffuses perfectly, blends brilliantly and viola, your eye is complete with no powder fallout onto cheeks.
In fact, this might be easier than working with powder shadows for a lot of people - I was genuinely surprised at how simple and achievable - and quick - these are to work with.  For day, I'm liking BR306, BR709 and BR204 a lot, and can whip up an eye with a couple of them in two minutes.  You can build the colour in layers without it going clumpy, you can sheer it out and you can layer other shades over the top - they really are great. And of course, you can use them as bases for powders to add extra intensity, which is what I'm using the purple, black and that great petrol blue for.
Longevity I'm finding is good - my lids are dry anyway and at the end of the day, while I'll be seeing some creasing and a bit of fade, the colour is still in place, certainly to the extent of a powder shadow. Truly, Shiseido seem to have overcome a lot of the issues cream shadows suffered from with these, and if you're looking for some to try - they are hand-on-heart worth a punt. Pricey, but worth a go.
Advertised
Now, if you'll excuse me, I'm off for another play, and you can have a gander at the gorgeous visual for the range: