 Japanese super-brand Shiseido has a new line aimed at millennials - but this moisturiser is for ANYONE with oily skin
I'm quite sure you know by now about my skin saga. I thought that in my 30s I would have grown out of the oiliness but no such luck. I'm always looking for skin care products that will help regulate the oil in my skin. Enter the Shiseido WASO Quick Matte Moisturiser.
WASO is the new line from Shiseido, and the ethos behind it is a nice one. It aims to change the way beauty is seen and made, encouraging people to 'fearlessly embrace who they are naturally'. I'm down with that.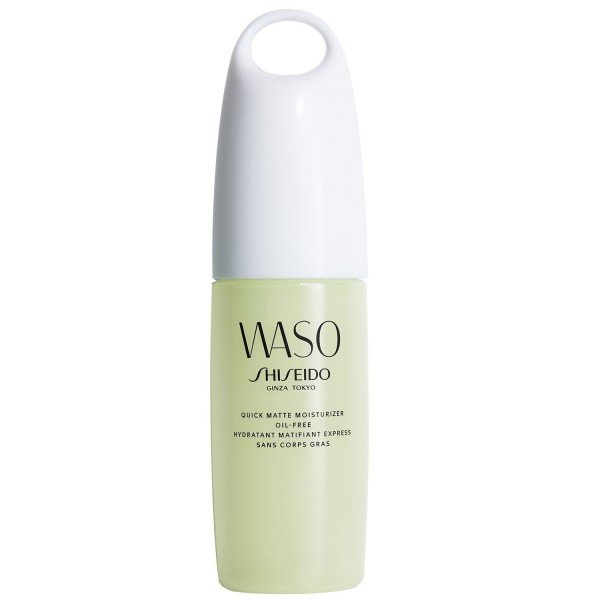 Advertised
Having spent a little over a year wearing no makeup for the greater good of my skin, I'm a lot more comfortable with the good skin/no makeup look. What I'm not as comfortable with is a sheeny shiny face. The Quick Matte moisturiser is supposed to control oil and mattify while being hydrating. A lot to ask, but with Shiseido's reputation, I was hopeful.
The entire line revolves around 'millennial skin issues' like dryness, oiliness and visible pores. Now, I don't quite know if I'm a millennial or not, but I'm happy to report that for me, this does exactly what it says on the tin. I'm loving the effects of this instantly mattifying, oil balancing gel. It's really is hydrating unlike other oil control moisturisers, but leaves your skin smooth and a lot less shiny.
This is perfect for anyone who has oily skin for using under or even instead of makeup. The difference in my skin from wearing it under my makeup was massive. I usually have to powder my skin every couple of hours but when I wore this, I didn't have to until I was leaving lunch. Perhaps that's down to the key ingredient, whole Loquat Leaf Cells, which help suppress sebum breakdown and balance skin's oil levels.
Other key ingredients are oily skin's friend Glycylglycine which helps prevent and improve visible pores and Peony Root Extract, which helps prevent the appearance of skin imperfections and blemishes.
Advertised
Really impressed with this one. I'm a convert.
The WASO range is available in Arnotts, Harvey Nichols and good pharmacies nationwide from October.