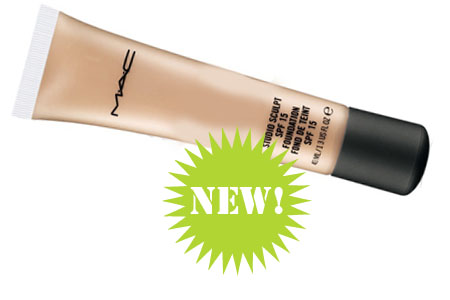 There are few things in the life of a make-up junkie more exciting than the launch of a new foundation. And there are very, very few things more exciting than the launch of a new MAC foundation, so I was thrilled silly to get my hot little hands on their brand spankin' new Studio Sculpt SPF15 foundation last week! This is a product that's been in development for the past two and a half years, and has been created in response to demands from backstage make-up artists for a long-lasting, buildable medium-coverage base that was also hydrating. (Can't you just see them flinging down their brushes in a tantrum behind the scenes at New York Fashion Week?)
Anywho, MAC themselves say that Studio Sculpt is "A creamy, luxurious, gel-based foundation that provides medium buildable to high coverage with a natural satin finish" and promise that it "instantly revitalizes the skin while keeping it looking smooth, soft and plush." It contains antioxidant Vitamin C and E to protect skin against damage from free radical nasties, together with ingredients to help provide a smoother, tighter looking complexion and soft focus powders that diffuse imperfections and give a more flawless finish.
Advertised
So that's the blurb, but what's Studio Sculpt like In Real Life? Well, first things first, it smells a bit wierd - kind of a false tan type smell. Not great. Besides that, it's certainly very creamy and blendable, but I'd have to argue that it's on the sheer-to-medium side where coverage is concerned. Skin has a you-only-way-bloody-better look with Studio Sculpt on, with none of the heaviness or caking associated with a more full coverage foundation. The finish is decidedly dewy, and it did seem to keep skin moisturised throughout the day: I'd say normal to dry skins would be delira with this, but it was a wee bit too hydrating for my own oily mush.
Actually, in many ways, Studio Sculpt reminds me of Giorgio Armani's cult Luminous Silk Foundation, so I can totally see it being a huuuuuge hit!
€35.50 at Brown Thomas and BT2 stores now.