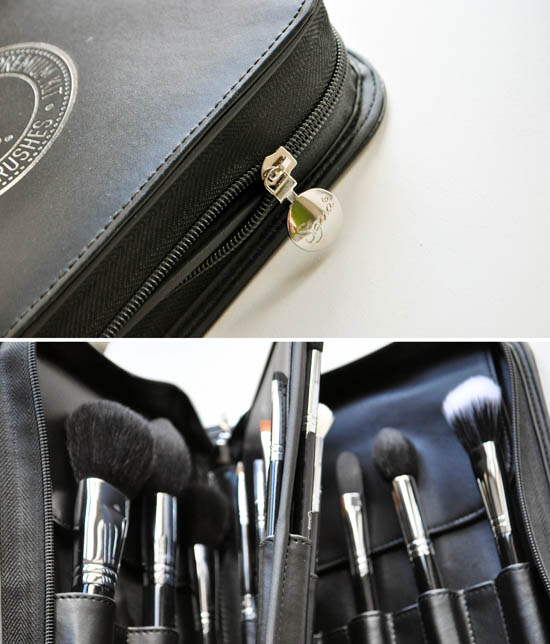 When Cloud10Beauty.com offered me a Sigma Premium Professional Kit for trial on the site, I said "hell yeah. Hook me up with that bad boy there." And duly they did. Of the two big brush brands to make waves online, it's Crown I've always bought from.  I've no complaints about Crown brushes and have bought well-priced kits and individuals from them over the years, all of which I have been mostly pleased with.
I do tend to like my individual purchases more than everything in kits. It's just the way it is, isn't it? You're not gonna love ten or more brushes equally. In particular I have about six Crown fluffy blenders I've bought randomly, all of which get constant use, wear and wash well and I love 'em.
Sigma I'd never tried though, so I was curious, considering all the hysteria online about the brand. Much of it, the cynic in me reckoned, prompted by the level of freebies the brand doles out to affiliates and bloggers.  Would I be proved correct? Read on.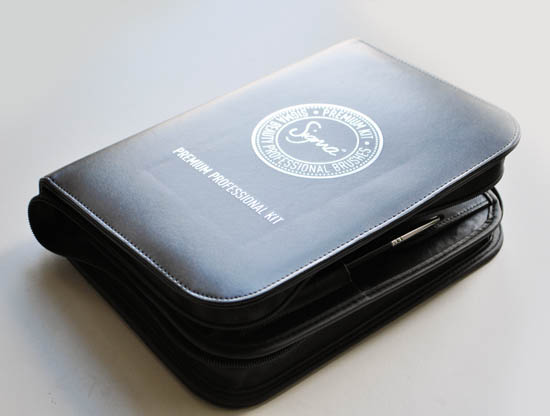 The bookalike presentation of the Sigma Premium Professional Kit
The Premium Professional Kit contains 15 well-made, sturdy brushes and is very impressive looking, coming in an attractive lightly-padded hard case with flippable leaves, each of which houses three-to-four brushes. Primarily this collection is designed to be a core face offering and it's the brand's luxury product, being more expensive than others they sell. And lets not beat about the bush, is is pricey: a whole €145 of expense, to be exact.
That works out at €9.66 a brush, which is a little more palatable. My first impressions on the kit is that this is a great set to move up to if you were currently operating off a motley rag-bag of random tools and wanted to upgrade to a sleek edit from one brand. It's an investment, but it definitely ticks that box. For a beginner, there's too much here to confuse - lots of stuff for contouring and highlighting for example - and I'd be more inclined to point you in the direction of something like Sigma's Essentials Kit or the Make me Blush Travel Kit (both are on the Cloud10beauty site).
However, this offering really does only satisfy face and eye needs; for foundation, you'll need extras and I'm guessing Sigma will be hoping to tempt you further with its much-lauded Synthetic Kabuki Kit, €57, which Cloud10beauty also stocks.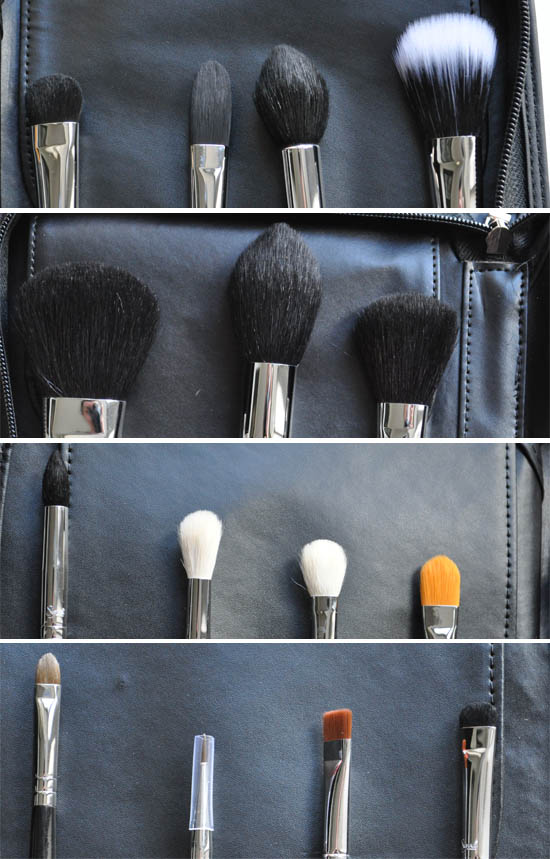 You get a lot you need for eyes and face here, and some you might not. There's a mix of synthetic and natural-fibre brushes; with seven for face, seven for eyes and one lip brush. Here's what's what:
Top row:
Large Fluff - E50: big fluff brush; I'm using this for applying a wash of base colour shadow all over the lid, it's great for that*
Large Concealer - F65: a large synthetic concealer brush for use on large areas like the cheeks; this isn't getting much use as of yet
Tapered Highlighter - F35: this is a Mac 165 dupe and can be used for precision contouring as well as highlighting - lots of people will want this kit for this brush alone, I'd wager
Duo Fibre Powder/Blush - F15: this is a flat brush and not a rounded, flat-topped stippler, like my other duo-fibres. It took a bit of getting used to this brush, but I like its ways now*
Second row:
Advertised
Large Powder - F20: this is a whopper! Massive. Good for dusting on setting powder or all-over illuminator
Tapered Face - F25:  meant for precision application of bronzer, blush etc, this makes me wish I knew the feck how to contour properly. Note to self: learn the feck how to contour properly, Kirstie*
Powder Blush - F10: this is in fact a very similar shape and size to the F15 duofibre but you'd use it with less pigmented products
Third row:
Small Tapered Blending - E45: this is brilliant; Sara often uses a similar shape in her tutorials and it's just fantastic for precise placement into the crease*
Tapered Blending - E35:  There's not much difference between these two; both aren't the softest fluff brushes I've ever tried, and both have rounded tips that can be used to apply and blend colour. The advantage of having two is that keeping one clean leads to a better finish, especially on things like smokey eyes
Blending - E25: see above
Concealer - F75: a synthetic brush that can also be used for flat placement of cream shadow products on the eyelids. This is a very decent brush
Fourth row:
Lip - L05: this is one of those lip brushes that comes with a metal cap (not seen). I know I won't use it and will loose it in approximately 10 more minutes. Sigh
Small Eye Liner - E10: Hmm, this is ok. I have better but if you like these sort of very thin liner brushes then you're onto a winner
Flat Definer - E15: synthetic, this can be used on the eyes for sharp definition so it could be used as a liner brush too, or for the brows
Short Shader - E20: I love this stubby shader! It's brilliant - you can really press product in with it and what Sigma say is true:  "Perfect for precisely applying colors on the lid and smudging along the lash line." It is excellent for achieving a softly-defined liner flick for daytime*
*these are my absolute standouts from this set; they're terrific tools.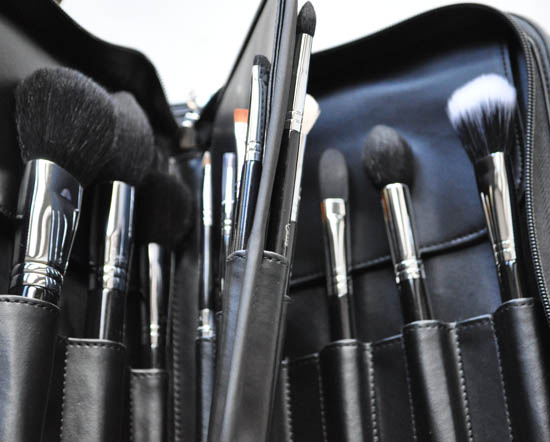 I've been using these now for about a month, and while my feelings are in the majority positive and I think, have you the cash to splash, this is a very decent buy, I do have some reservations. They're detailed below, but here are some more good things before we get to 'em.
While some did noticeably shed hairs like any good wool carpet will when new, I didn't find that to be a particular issue across the set, they held their shape well and when brought on a weekend away with no other backups, performed admirably and caused me to have zero meltdowns. Real Techniques, I can't say the same for you!
So, here's what I'd warn you about, and really, it's not much:
Price: I'd recommend getting this for a gift if possible as it is expensive
Quality: this varies across the brushes. Some are kinda scratchy, in particular E35 and E25 which I wasn't so mad about
Portability: this isn't that travel friendly because while the case is great and very protective, it's also quite large. This means you'll need something else to protect your brushes with while gadding about
More: if anything, (and I am being really picky here) this kit could do with one more flat shadow placement brush as it has three fluffy/blenders.  As mentioned, you'll also need foundation brushes - if, of course, you use them
And that's it - the Sigma Premium Professional Kit is an investment buy, but a worthy one.
Have you got any brushes from Sigma? Tell us about 'em in the comments!
Advertised