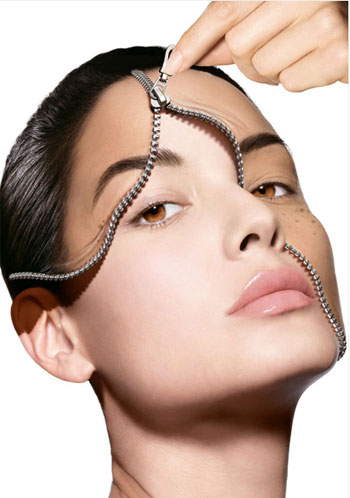 Pic from Vichy ad for skin whitening product
Now while we're all going crazy to fake tan ourselves over here in Ireland, in Asia they're mad to lighten skin up.
Hip Asian girls on holiday are the ones with the big hats and the skin whitening lotions and potions. While European types are still slathering themselves in sun oil and wearing teeny tiny thongs (it's happening, especially if you're Italian - and that's only the men ugh), savvy Asian ladies are covering themselves up in trendy tankinis and suncream.
Advertised
But they don't stop there. While we like to spend on bronzer and spray tans, they save their money for skin whitening preparations (and V face products of course). We've discussed this phenomenon before on Beaut.ie - African, Indian and Asian skintones have zillions of skin whitening treatments to choose from. They're incredibly popular and a must have for every bathroom cabinet. For every tan or hint of colour product we are offered they are offered a skin lightening one. Here for example L'Oreal Men Expert do a face cream "with a hint of tan". L'Oreal Men Expert offer the same product in Asia - but this one will lighten up those dark spots. Every single brand you can think of - from Garnier, L'Oreal, Vichy, The BodyShop, to Estee Lauder and Chanel - offers products to lighten, tackle hyperpigmentation and dark spots.
So do you think it's all just a big con that's been created by marketing to prey on our insecurities and that we should all be happy with the skin tone we've got? Or are cosmetic companies just being kindly and providing us with the products we need? Read this article on Jezebel for a whole different take on this issue too.