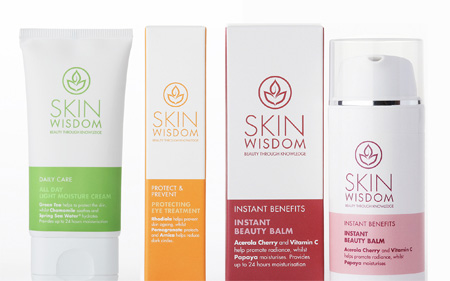 Head to your local Tesco today to check out the re-launch of Bharti Vyas's acclaimed Skin Wisdom range.  Originally launched in 2001, re-packaged, re-formulated products will be hitting the shelves, and they'll still be at excellent prices. Plus, to meet customer demand, the entire range is now paraben- and mineral oil-free.
The new packs actually make it a lot easier to see what's what - I hadn't realised that the entire range was so big, or so specific. There's a Daily Care line, containing eight products which are aimed at those embarking on the business of skincare. Next up is Instant Benefits, a trio designed to give you a boost when you need it, so you'll find a tinted moisturiser in this collection. There are also Protect and Prevent and Lift and Firm lines, aimed at the over-30s, which add an extra eight products to the range. Nothing is over €10.99, and in fact, many items are under €5 - brilliant for those watching their pennies.
Advertised
And keep an eye out for a forthcoming launch which sounds really interesting: on the way is a new line to help skin cope with environmental agressors. Go Bharti!