 We headed over to the launch of some new products from Benefit yesterday, and were very happy with what we found. The jolliest cosmetic brand around wasn't launching a new addition to their line, but new versions of two of our ultimate favourite Benefit products.
Benefit They're Real Mascara divides opinion, but you can't argue with the fact that it's the number one selling mascara on the planet (I'm not sure about other planets, I haven't checked). The majority of women seem to adore it, and if you're one of them, you'll be happy to hear that the range is expanding beyond the traditional black.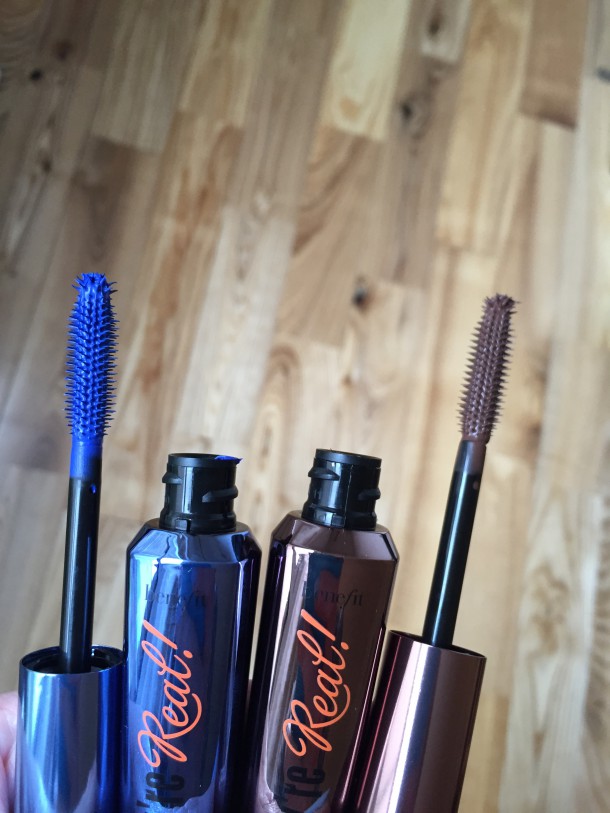 Now Benefit are releasing the classic mascara formula in two new colours! There's a gorgeous (and impressively subtle) indigo blue, and for those who love a pared-back look, a brown. The patented brush is exactly the same, and the formula and staying power haven't changed a bit, but the brown is perfect for those with fair hair, or who feel black is a bit too much. The blue shade is beautiful layered over your regular mascara for a subtle hint of blue. 
We haven't had a chance to get these on our eyes yet ( I ran panting from the launch, throwing on someone else's coat to tell you about the new shades) but we'll give you a more comprehensive review when we've had some time to play with them. They'll be on counters from July at €26.
What really excited me, though, was the eyeliners. When They're Real Push-Up Liner launched last May, I raved about how great it is. Beaut.ie readers responded really well to it, but many of you lamented that black was the only available shade. Well, your wait for colour is officially over. Four new shades  are going to launch, and they're all supremely wearable. From July, the liner will be available in Brown, Blue, Green and Purple as well as the original black-as-a-priest's-socks black. Here are some swatches to keep you going until the launch in a couple of months!
Advertised
Out-there colours are great, but no one is going to wear lime green liner every day (I hope...). These have enough pigment to make any eye colour pop, and have people asking what colour your liner is when you flutter your lashes (or just blink like a normal human). What I like, though, is that the colours aren't loud enough to make your makeup all about the liner, and they're totally wearable as everyday colours. They have a slightly creamier formula than the original black (which is brilliant), and once they dry down, only an oil-based remover will get rid of your liner. This is only going where you put it!
Benefit They're Real Push-Up Liner will also hit counters in July, and can be yours for €25. That's not cheap for liner, but if you wear eyeliner every day, it's worth investing in.
Are you a fan of the They're Real eye products? And how do you feel about the expanded colour range? Share your thoughts in the comments!