 Well now, hello there.

There is a whole lot of gorgeousness going on with Bobbi Brown for 'the holidays'. We can't show you the Christmas look juuust yet (there is a beaut of a product in that, which will probably sell out in about 2.5 seconds) but here is the gift collection. And it's really rather lovely.

The BB colour options can be a bit samey but the brand does do lovely palettes and kits at this time of year. So, we're going to leave aside some of the more 'ah look, I've seen that before' products like the two large Eye Shadow Palettes. Yes, these are the typical wearable neutrals and sparkles in Warm (pic above) and Cool. And instead we are going to take a look at some of the more interesting palettes.
And boy, are they pretty.
First up is the compact double decker Delux Lip & Eye Palette, at €69. It has eight eye shades - from a soft Ivory Eye to an inky Black Chocolate, with a nice array of metallic golden nudes in between.
The lower layer houses eight lip shades which are a very wearable mix of shades and textures (the Coral Pink looks particularly interesting). There's two applicator brushes in there too.
And check out that beaurriful Mini Eye Palette (€31.50) which has eight eye shadows designed for party looks. There's some mattes and some sparkles in there, with a pretty pink-lilac spin alongside golds and neutrals.
Advertised
The Mini Lip & Eye Palette (also €31.50) is one of those things you buy as a present but end up keeping for yourself. It's a sleek and slim kit with three lip and three eye shades. There's nothing too dramatic here so it'd be a good choice if you want a classic look rather than something wild 'n' crazy.
There are three eye colours: Ivory Eye, Cement and Black Chocolate for lining or smoking things up. The lip colours are Brown and Natural Pink and there's a wee High Shimmer Lip Gloss in Bare Sparkle to add a touch of shine. 
Finally, a word on the brush sets… and that word would be 'want'. Packaged in sleek, faux-croc packaging, they're just gorgeous although definitely something of an investment buy! There's the Mini Brush Set (€70) which looks like a palm sized clutch purse and contains four brushes: Face Blender, Concealer Blending, Eye Shadow and Dual-Ended Eye Liner/Ultra Fine Eye Liner.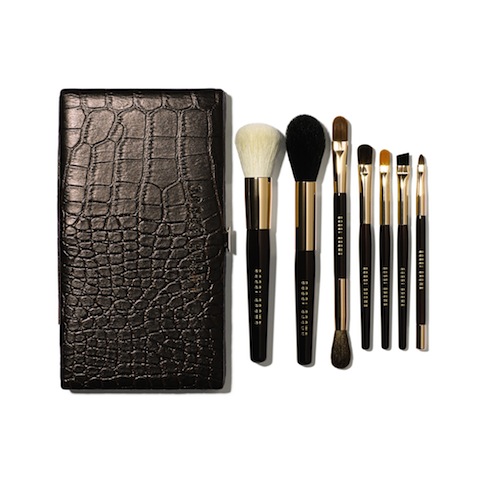 And there's a larger travel brush set too, at €110 which has eight brushes; Face Blender, Sheer Powder, Dual-Ended Concealer Blending/Eye Blender, Eye Shadow, Eye Liner, Ultra Fine Eye Liner and Brow brush.
Advertised
The complete Gift Giving collections is on counters from October 16th and to coincide with the launch there are complimentary 'Look of the Season' makeup lessons available (find your nearest counter on www.bobbibrown.co.uk and book an appointment).
So what do you make of Bobbi's Gift Giving Collection? Do you love the rich, sparkly classics or does it leave you yawning into last-year's sparkly palette?