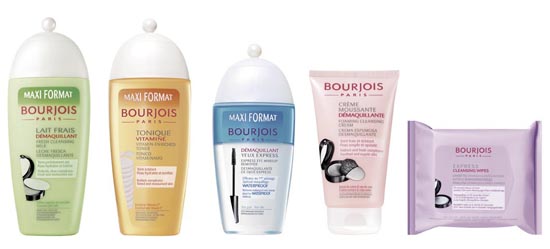 Boldly going where no mid-price brand has gone before, we're well used to clever innovation from Bourjois, but this one is pretty audacious. In September, the brand's new cleansing products will debut on stands, right beside the makeup it's intended to remove.
Smart, eh? If you've ever checked out the line in France, then you'll have clocked that the range is a lot larger there than it is here, with shower gels and deodorants on offer as well. Fingers crossed they make it over to us, but for starters we have five well-priced makeup removers and cleansers incoming in October.
Wanna get the lowdown? It's after the cut.
Advertised
(L-R)
Fresh Cleansing Milk, 250ml, suitable for dry or delicate skins, €7.99
Vitamin Enriched Toner, 250ml, €7.99
Express Eye Makeup Remover, 200ml, two-phase formula to remove all types of eye makeup, €7.99
Foaming Cleansing Cream, 150ml, suitable for dry, delicate skins, €7.99
Express Cleansing Wipes, 25s, containing 25% more formula for more effective cleansing, €5.49