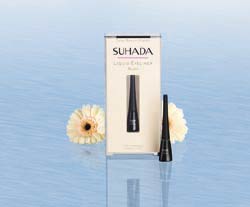 As soon as I saw Lidl were branching out into the world of liquid eyeliner I had to have a go.
Would it be like their baked beans (atrocious)? Or maybe it would be like their cheeses (most excellent)?
I had an open mind as I lined my eyes. I liked the fact that this liner is very black and made it really easy to draw an impressive cats eye. I didn't like the fact that the nib is very stiff and can be quite sore if you press down.
Advertised
So my top tip is - don't press hard with this one. In terms of performance it didn't blow me away but it's quite decent. If you like Isa Dora liquid liner(or any of those felt pen liners) then this will be a good one for you to try.
But this is the deal maker. It costs €2.99. Yes - TWO NINETY NINE. Sorry for shouting but this is more like it. Its roughly the price of a cup of coffee, does the job and it's cheap enough for everyone to enjoy. More like this please.
The Suhada range of cosmetics will be available at Lidl from April 16th.