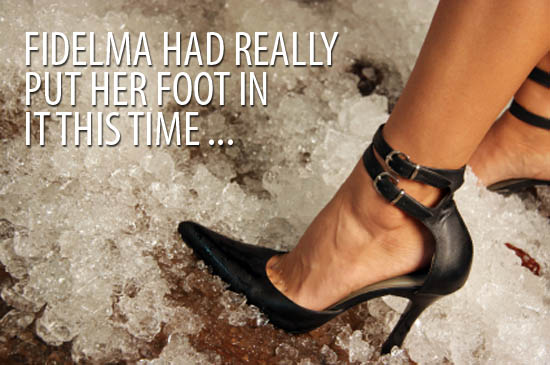 A gang of gurriers ambushed me with horrible hard snowballs yesterday evening as I trapised through the drifts and my inner hypochondria instantly diagnosed concussion, brain damage OR WORSE.
I've no suitable footwear, clothes or mental ability to cope with the massive piles of snow that are falling out of the sky.
My hair's gone to shit and I've had to start to wearing my scarf around my head when I venture outside, a la Peig Sayers. Next stop, a clay pipe and the Sean Nos singing career.  The moustache is already well on its way. What? It's cold, I need the extra insulation.
Advertised
It's fair to say that I'm really feeling a bit Day After Tomorrow about the weather. All we need now are some wolves to escape from the zoo and for Denis Quaid to come tramping across the top of Liffey Valley wearing nothing but snowshoes and a grin to complete the effect. I am about to throw my toys out of the pram and into a snowdrift: for a town-dwelling gal who takes a lot of taxis and doesn't own any flat shoes, this is like a living hell. A LIVING HELL. Except cold.
I HAD TO WALK TO WORK THE OTHER DAY IN TRACKSUIT BOTTOMS AND TRAINERSFERGODSAKES.
Clearly, I'm not coping. How are you faring in the weather? Got any sensible Irish-girl tips? Share 'em in a comment, and quick, for the love of god.