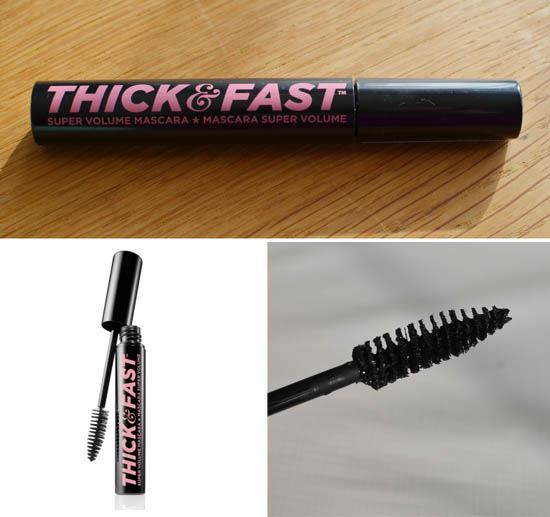 You don't get much for free these days, so getting free makeup attached to the front of a magazine you'd probably have bought anyway is always a nice surprise. In this case it was Soap & Glory's Thick & Fast Super Volume Mascara on the cover of Elle magazine's March edition. As I'd been thinking about trying it out anyway, this was a double bonus.
Launched late last year and priced at €14, Thick & Fast Mascara is part of a pretty extensive makeup collection added to the already very popular bath, body and skincare line of products. Promising a "false lash effect" and "amazingly longer, fuller, fabulous" lashes, it sounded almost too good to be true.
The brush emerges from the tube with a satisfying pop (always a good sign when you don't want to find it overloaded with product) and it is HUGE. From memory it seems to be a similar size to Benefit's Bad Gal. Massive, in other words. And so it tends to make for messy application unless you're very, very careful about it. But when you are careful, it makes light work of reaching and grabbing all lashes and applying colour evenly.
Advertised
Now if only I could like the mascara formula as much. Unfortunately, and there's no way of dressing this up, I really couldn't find anything good to say about the results and I think I gave it a fair shot. Firstly, I found the mascara sort of dry to apply (maybe I got unlucky with my tube?) and the finish was dull instead of glossy.
And despite how well the brush seemed to hug my lashes when applying, it didn't fan them out into a nice shape. And where was the length and fullness that was promised? I don't expect miracles from a tube of mascara, but what I got was nowhere near a false lash effect and not even as impressive as the more "natural" look I get from many mascaras that promise a lot less than this one did.
It was a freebie, so I can't really complain, but I'm glad I didn't splash any cash on this. Did you get a free Thick & Fast mascara? If so, let us know what you thought in a comment below!