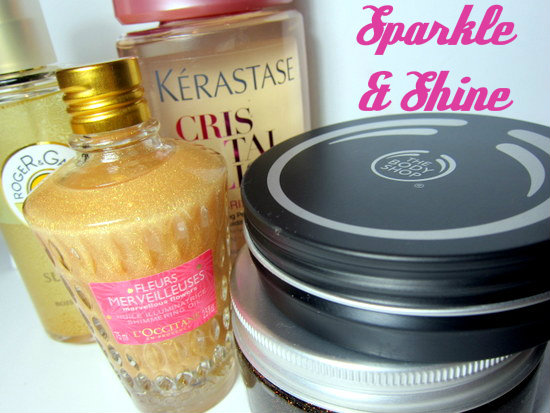 We've already talked shiny clothes, sparkly hair accessories, metallic makeup and glittery nails - well it is Christmas after all - but today let's indulge our inner magpies a little bit more! Our picks will help you outshine the Christmas tree and sparkle from head to toe - without looking like you fell face first into a vat of glitter. More twinkly and festive, less disco ball…unless that's the look you're after, and hey, who are we to judge.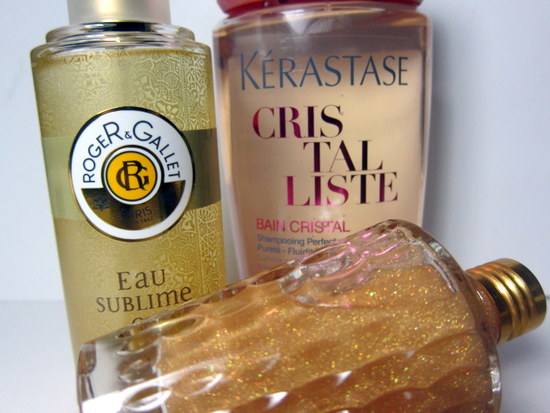 First up, for hair that sparkles and catches the light, I am loving Cristalliste – the more affordable range from Kerastase. Now everything's relative and this is still €17 for the shampoo and €20.30 for the conditioner, but it's good – so good, in fact, that I just bought my second bottle, despite having a small army of hair products at home. It's really lightweight and lovely, and leaves my hair as close as I get to shampoo-ad-shiny.
Onto the body and much as I like them, I am woefully bad at bothering with body butters and oils – unless of course, you add a bit of sparkle. Then I'm quite happy to slather myself head to toe when I step out of the shower, even if I'm only headed to the Spar. What can I say, I'm infected with Christmasivity! Even the budget didn't cure me. I'm loving L'Occitane's Shimmering Oil, €29.95, which adds moisture as well as a gorgeous gold shimmer.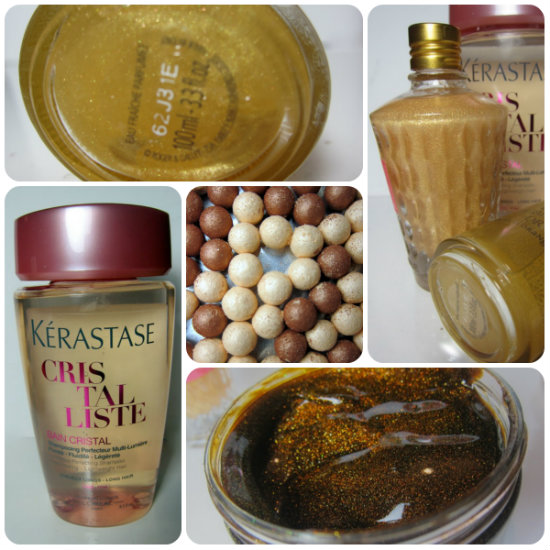 Advertised
 Sparkly enough for you yet? No? Then how about a spritz or two of the gorgeous Eau Sublime Or from Roger & Gallet? I actually can't believe I left this out of my festive fragrance post, because it's perfect for this time of year. It has all the warm citrusy deliciousness of the brand's Bois D'Orange fragrance (read more here!) but it's infused with a fine gold sparkle. I like to spritz it on my hair before I head out of an evening. It's €39.75, and there's a matching body cream that's equally sparklicious for €17.50.
Tan fans will also love He-Shi's Luminous Shimmer, which launched earlier this year. We all know how lovely it looks to add some sparkle over a faux glow – well, He-Shi have taken that one step further and included the twinkle in the tan! Look at it – it's gorgeous, and you can build it up from a natural instant tan to as deep as you dare. This is €12.60.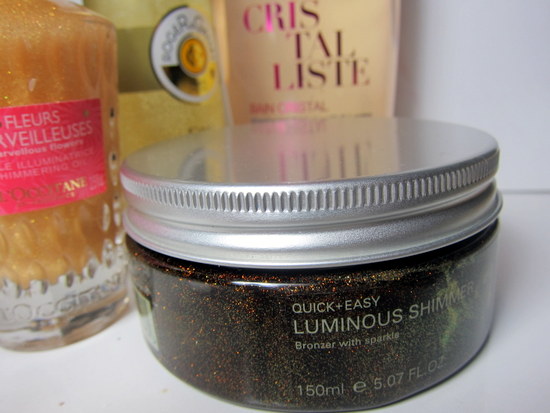 As a finishing touch I've been loving a light dusting of The Body Shop's Dazzling Rocks in Golden Copper, €28.95. These types of products are normally frosty pastels but the colours here are beautifully warm and give a flattering sheeny glow to the decolletage, shoulders, arms…wherever you want it. It looks really pretty with my skintone.
And that concludes today's sparklefest…do you like to twinkle, too?