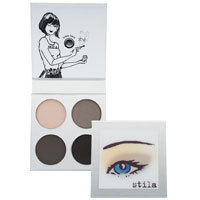 Girls - this might just be a revolution in beauty products. An eyeshadow palette that talks you through the process? My GAWD. It's genius! And it took a fab forward-thinking brand like Stila to think of it, which isn't too surprising.
Smoky eyes are a nightmare to get right at the best of times, and this is the inspiration behind the instructions. "stila introduces a revolutionary 4 pan palette that not only includes the four shades you need to create a smoky eye, it literally talks you through each step. with the press of a button, a stila artist recording will teach you how to create the perfect smoky eye, complete with artistry tips, what brushes to use and product suggestions, all in under a minute".
Advertised
Well, I dunno about you, but I am awe-mazed. It's $40 from the stila website, but they don't ship internationally, so we'll have to cross our perfectly manicured fingers and hope that BT's have it in stock!