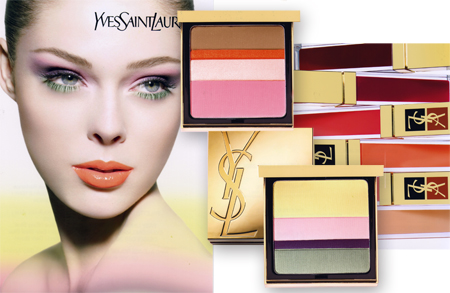 Pure Colour is right. Saturated shades abound in the Yves Saint Laurent spring summer collection, and I'm firmly smitten.   Like Guerlain and Clarins' offerings, we're seeing pretty pastel eyes and luscious lips, and the more of these collections I see, the more I become convinced that it's candy girl all round for me in the next few months.
YSL always have limited edition star products, and this season it's those two compacts you can see above. They're Palette d'Artiste for eyes and complexion, and cost €51 a pop. Also pictured are juicy-looking Gloss Pur wands in six new basic shades, which are on counter now for €28. There's lots more going on too - check after the cut for the lowdown.
Advertised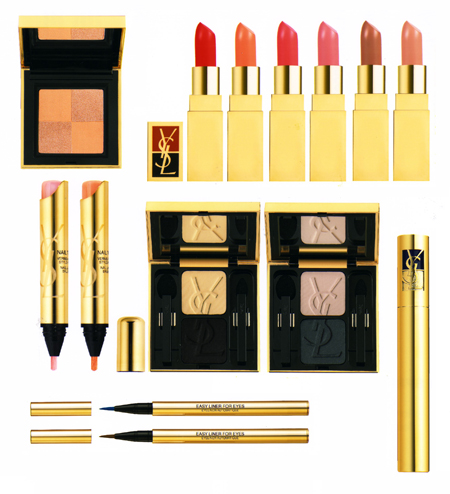 Clockwise from top  left, we have a Blush Variations, €40, in Coral sand, a new colour; Rouge Pur Lipstick, €30, in six new shades; Nail Touch pens in two new shades, tender pink touch and coral touch, €28 each; two Ombres Duolumieres shadow palettes in Ivory beige/Deep black and Oatmeal/Petroleum blue (I adore these duos, they're amazing) at €40 each, as well as new shades of Easy Liner for Eyes (brown and blue), €31, and finally, an Everlong Mascara in Ever Steel Blue, €31.
So, what do you all reckon? Given €100 to splurge at a YSL counter, what would you buy?